Gov't to Destroy Invalid, Damaged Electronic ID Card
By
Office of Assistant to Deputy Cabinet Secretary for State Documents & Translation &nbsp &nbsp
Date
17 Desember 2018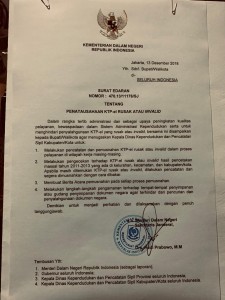 Minister of Home Affairs has ordered regional governments to check damaged or invalid electronic identity card e-KTP from the period of 2011 to 2013 in the villages, sub-districts and regencies/cities.
This order is stipulated in the provision number 470.13/11176/SJ on arrangement of damaged or invalid e-KTPs.
"All damaged or invalid E-KTPs must be destroyed by burning it," Head of Information of Ministry of Home Affairs Bahtiar said.
According to Bahtiar, the previous Standard Operating Procedure (SOP) to destroy invalid or damaged E-KTP was to cut it while the new SOP is to burn it.
This policy, Bahtiar continued, is made to avoid misuse of the damaged or invalid e-KTP, as well as to avoid counterproductive issues in the community, particularly regarding the 2019 general election.
"By implementing this policy, we hope the 2019 election will be smooth, peaceful and fair," Bahtiar said.
Bahtiar added that the destruction of the damaged or invalid e-KTPs must be reported to Minister of Home Affairs through the Director General of Civil Registration as security measures to avoid theft and misuse of state documents.
Ministry of Home Affairs also expressed appreciation to local governments, including Department of Population and Civil Registration, sub-district heads, village heads, the Public Order Agency, the Police and other officials which have assisted in implementing this policy. (Puspen Kemendagri/ES)
Translated by: Estu Widyamurti
Edited by: M. Ersan Pamungkas