Gov't to Dishonorably Discharge Graft-Convict Civil Servants
By
Office of Assistant to Deputy Cabinet Secretary for State Documents & Translation &nbsp &nbsp
Date
15 September 2018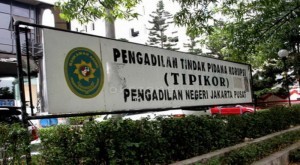 Minister of Home Affairs Tjahjo Kumolo, Minister of State Apparatus Empowerment and Bureaucratic Reforms Syafruddin, and Head of the Civil Servant Agency (BKN) have signed a joint ministerial decree to dishonorably discharge thousands of civil servants involved in corruption cases.
The agreement was outlined in the Joint Ministerial Decree of Minister of Home Affairs, Minister of State Apparatus Empowerment and Bureaucratic Reforms, and Head of the BKN dated 13 September 2018, Number 182/6597/SJ, Number 15 of 2018, and Number 153/KEP/2018 on Law Enforcement of Civil Servants Who Have Been Convicted by the Court due to Conduct Criminal on Position or Conduct Criminal with Relation to Position.
The Joint Decree is issued to synergize and coordinate of ministries/institutions to dishonorably dismiss those civil servants.
According to the Joint Decree, the imposition of sanctions is in the form of dishonorable dismissal of those civil servants by the Personnel Supervisors Officer (PPK) and the Authorized Officers (PYB).
In addition, there are also sanctions imposed on the PPK and the PYB who do not impose sanctions of dishonorably discharging those civil servants who have been sentenced based on a court decision that has a permanent legal force due to a crime on position or a crime related to position.
"Completion of the scope of this joint decree is no later than December 2018," third dictum of the Joint Decree reads.
The Joint Ministerial Decree, which was signed on 13 September 2018, comes into force on the date of its promulgation.
As previously reported, data from the BKN shows that 2,357 civil servants who are convicted of graft cases are still registered as active civil servants.
"The figure consists of 1,917 civil servants working for regency/municipality governments, 342 civil servants working for provincial governments, and 98 civil servants working for ministries/institutions at the Central Government," Deputy for Supervision and Control of the BKN, I Nyoman Arsa, said during a Coordination Meeting on Civil Servant Disciplinary Enforcement in Jakarta, Thursday (13/9).  (Humas Kementerian PANRB/ES) (GWH/EP/Naster)