Gov't to Give Confiscated Fishing Vessels to Local Fishermen
By
Office of Assistant to Deputy Cabinet Secretary for State Documents & Translation &nbsp &nbsp
Date
19 November 2019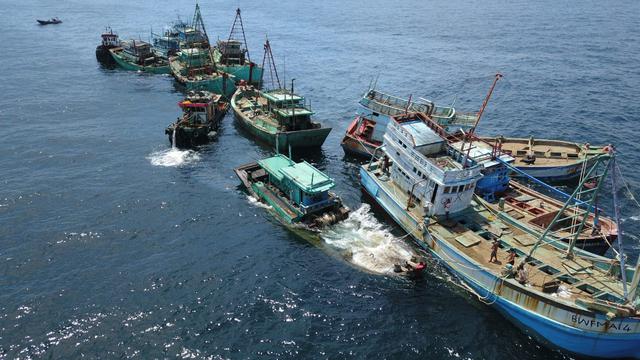 The Indonesian Government has announced plans to hand over fishing vessels that operate illegally in Indonesian waters to local fishermen.
"We hope those vessels can be useful. We are drafting the procedures to hand over the vessels to fishermen and the procedures will be issued soon," Minister of Maritime Affairs and Fisheries Edhy Prabowo said during a coordination meeting held by Coordinating Minister for Maritime and Investment Affairs Luhut Pandjaitan, Jakarta, Tuesday (19/11).
Edhy added that there are 72 illegal fishing vessels that have got final and legally binding decision from the court, 45 of which are in good condition, six are not seaworthy and should be destroyed, and the rest are in relatively poor condition.
He added that the prospective recipients of the vessels are fishermen, local governments, or colleges, adding that the Government will regularly monitor the vessels to ensure that they will not be sold to the previous owners.
The Government has also stated it is seeking solution for neglected foreign vessels at some ports in the country.  "There are many foreign vessels. There should be a solution for that, so they will not overcrowd the port," Edhy said, adding that there were several vessels ordered by businessmen, yet the rules changed when the vessels arrived in the country which make them illegal to operate.
Edhy expressed hope that fishing vessels that are still in good condition will be useful for local fishermen. (ANT / ES)
Translated by: Syarifah Aisyah
Edited by: Ridwan Ibadurrohman/M. Ersan Pamungkas