Gov't to Improve Mudik Traffic Management System
By
Office of Assistant to Deputy Cabinet Secretary for State Documents & Translation &nbsp &nbsp
Date
6 Mei 2019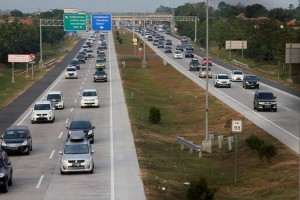 In a bid to facilitate the smoothness of this year's 'Eid al-Fitr annual exodus—locally known as mudik—the Government has prepared two concepts for better traffic management.
"We (the Central Government) together with regional governments, the Indonesian National Police, regional police, and other relevant agencies have prepared two concepts, namely one-way traffic and even-odd license plate policies," Minister of Transportation Budi Karya Sumadi said in his remarks on the 2019 Lebaran Festivity Transport Coordination Meeting of the Traffic Department in the Central Java Area, Semarang, Sunday (5/5).
The toll road that connects Jakarta to Surabaya, according to the Minister, will attract the public to use their private vehicles. Therefore, a traffic management is needed so that there is no traffic density in the toll road. "Later we will finalize which concept to be adopted," he said, adding that the concepts aim to make mudik more comfortable and smooth.
In the meantime, Governor of Central Java Ganjar Pranowo said that the regional government must anticipate the congestion at the toll exit. "I ordered the regencies/municipalities to prepare an alternative route with clear traffic signs," he said.
Some toll exit points in Central Java that need to be anticipated are among others: Pejagan Exit Gate; Pemalang (Gandulan) Exit Gate; Banyumanik and Kalikangkung Exit Gate; Salatiga (Tingkir) Exit Gate; Boyolali Exit Gate; and Kartosuro Exit Gate.
In the meeting, the Government also evaluated a number of rest areas which are considered to be lacking. For that, pocket parks will be prepared to facilitate the travelers to rest.
The Ministry's Land Transportation Director General Budi Setiyadi said that the results of the Transportation Research and Development of the Directorate's 2019 'Eid transportation survey stated that the total number of travelers from Greater Jakarta (Jabodetabek) reaches 14.9 million, with three provinces being the top mudik destinations, namely Central Java by more than 5.6 million travelers or accounting for 37.68 percent of the total Jabodetabek travelers, West Java by more than 3.7 million or 24.89 percent of the total Jabodetabek travelers, and East Java by more than 1.6 million or 11.14 percent of the total Jabodetabek travelers.
In Central Java alone, there are top three destination cities, namely Surakarta with more than 642 thousand travelers or accounting for approximately 4.31 percent of the total Jabodetabek travelers, Semarang (more than 563 thousand more/3.78 percent), and Tegal (more than 354 thousand /2.38 percent). (Ministry of Transportation PR/ES)
Translated by: Galuh Wicaksono
Edited by: Muhardi/Yuyu Mulyani