Gov't to Provide COVID-19 Vaccine Through 5 Schemes
By
Office of Assistant to Deputy Cabinet Secretary for State Documents & Translation &nbsp &nbsp
Date
29 Desember 2020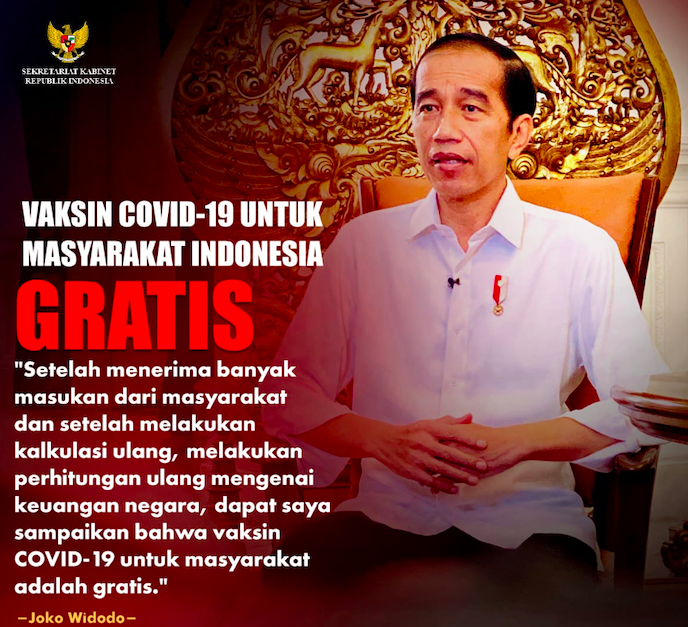 The Government has announced it will provide COVID-19 vaccine for Indonesian people through five schemes.
"The Government makes its best effort to ensure that we can secure the doses needed," Minister of Health Budi Gunadi Sadikin said in a press conference at the Presidential Office, Jakarta, Tuesday (29/12).
In a bid to achieve herd immunity, Budi added, 181 million Indonesian people must get the vaccine.
Taking into account that one person needs two doses of vaccine, as well as guidelines from the World Health Organization (WHO) to prepare 15 percent for reserves, the total doses needed are approximately 426 million doses.
Budi also said that the schemes to provide vaccine include four bilateral schemes and one multilateral scheme.
Of the four bilateral schemes, the Minister added, the Government has signed a contract with Sinovac for 125 million doses of vaccine, with available options to obtain more doses, and with Novavax for 130 million doses.
"We will soon sign a contract with AstraZeneca for 100 million doses of vaccine, including some firm order and some options. We will also soon sign a contract with BioNTech-Pfizer for 100 million doses of vaccine, of which 50 million are firm order and the rest are options," he said.
For the multilateral scheme, Indonesia has also collaborated with GAVI (Global Alliance Vaccine and Immunization) initiated by the GAVI vaccine alliance and is supported by WHO and the Coalition for Epidemic Preparedness Innovations (CEPI).
"The numbers of doses that can be obtained by Indonesia (through the scheme) is not fixed yet, but the range is between 3 percent of the population or 16 million doses to 20 percent of the population or approximately 100 million doses," the Minister said.
Budi further said that Indonesia has secured approximately 330 million doses of vaccine and approximately 330 million more doses with options, adding that the options could be used as a backup if there are several failed vaccine candidates in the clinical trials or if the delivery process is delayed.
"We hope that the vaccine can arrive gradually to Indonesia and we can immediately administer injection to 181 million people of Indonesia," the Minister concluded (DND/UN) (RI/EP)