Gov't to Reimpose Public Activity Restrictions, All Regions at Level 1
By
Office of Assistant to Deputy Cabinet Secretary for State Documents & Translation &nbsp &nbsp
Date
6 September 2022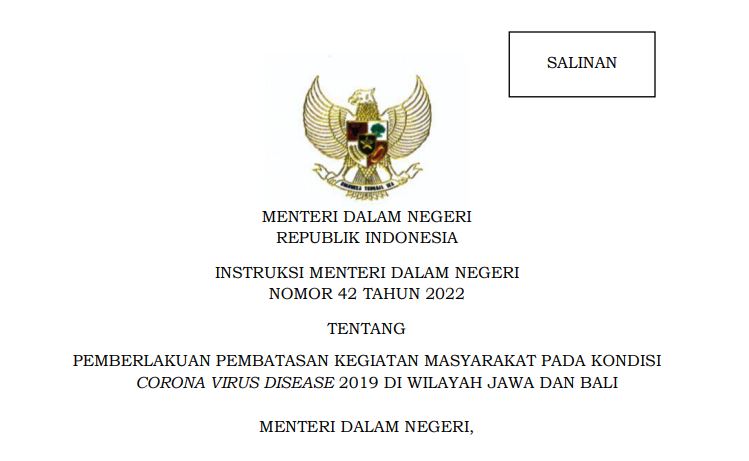 The Government will again impose public activity restrictions (PPKM) level 1 from September 6 to October 3, 2022. The policy is contained in Instruction of the Minister of Home Affairs Number 42 of 2022 on PPKM in the islands of Java and Bali and Instruction of the Minister of Home Affairs Number 43 of 2022 on PPKM in regions outside the islands of Java and Bali.
Director General of Regional Administration Development at Ministry of Home Affairs, Safrizal ZA, stated that the provisions of the Instructions are similar with previous regulation.
"Based on assessment and inputs from the experts, it is decided that status of all Indonesian regions is in level 1. However, we must remain vigilant because positivity rate during the past 30 days is still above the standard set by the WHO, namely five percent," he added.
He went on to say that a number of adjustments are made in the Instructions, including entry points for international travelers, which is revised based on the addendum of Circular of COVID-19 Handling Task Force Number 25 of 2022 on Health Protocols for International Travel during the Coronavirus Disease 2019 (COVID-19) Pandemic.
The entry points of international travel are: Soekarno Hatta Airport in Banten province, Juanda Airport in East Java province, Ngurah Rai Airport in Bali province, Hang Nadim Airport in Riau Islands province, Sam Ratulangi Airport in North Sulawesi province, Zainuddin Abdul Madjid Airport in West Nusa Tenggara province, Kualanamu Airport in North Sumatra province, Yogyakarta Airport in Special Region of Yogyakarta province, Sultan Iskandar Muda Airport in Aceh province, Minangkabau Airport in West Sumatra province, Sultan Aji Muhammad Sulaiman Sepinggan Airport in East Kalimantan province, Sultan Syarif Kasim II Airport in Riau province, Kertajati Airport in West Java, H.A.S. Hanandjoeddin Airport in Bangka Belitung islands, and Sentani Airport in Papua province.
Furthermore, Safrizal reminded regional governments to be proactive in responding to the new regulation regarding booster shot requirement for traveler using public transportation such as train and plane. The regional governments, he asserted, must collaborate to speed up vaccination drive.
"We will continue to underscore the importance of speeding up booster dose drive since the national coverage is still below 30 percent. Regional heads are urged to create synergy with various sides in disseminating vaccination to the public particularly the booster dose," he conclusively remarked. (PR of Ministry of Home Affairs/UN) (RAS/HD/MUR)