Gov't to Renegotiate Fighter Aircraft Agreement with South Korea
By
Office of Assistant to Deputy Cabinet Secretary for State Documents & Translation &nbsp &nbsp
Date
19 Oktober 2018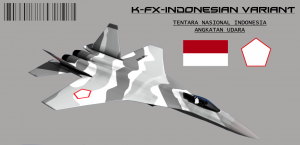 Coordinating Minister for Political, Legal and Security Affairs Wiranto said that the Government decided to renegotiate the joint project of KF-X/IF-X (Korea Fighter Experiment/Indonesia Fighter Experiment) with South Korea due to the current economic condition.
"We did have a continued long-term program with South Korea, starting from research collaboration to production. However, the President has decided to renegotiate due to the latest national economic conditions. We would negotiate again so that we might get facilitated for the financing issues," Wiranto said at his office in Jakarta, Friday (19/10).
The Minister admitted that the decision certainly will have an impact on the previous agreement. Therefore, a special team will be established and chaired by him to determine issues that will be discussed in the renegotiation. "It will take one year but I hope we can accomplish it faster," Wiranto said.
The renegotiation will be discussed some issues, including Indonesia financing capabilities, cost sharing percentage, the number of forms of development cost sharing, production costs, technology transfer to Indonesia, the benefits of intellectual rights for Indonesia, marketing issues, and others.
"The discussion will be based on previous agreement's points and we have told the team the items that we will possibly discuss," the Minister said.
In the meantime, Head of the Investment Coordinating Board (BKPM) Thomas Lembong said the restructuring and renegotiation of the joint program was also part of the Government's efforts to save the country's foreign exchange, because all the Government deposits from the joint programs with Korea must be paid in foreign exchange.
Head of BKPM said that the Government did not want any negative impact from the renegotiation on South Korean investment in Indonesia. Therefore, a negotiation team was established to temporarily save foreign exchange and maintain investment climate in the country for South Korean investors. He continued that Indonesian Government really appreciated South Korean Government for their understanding and added that South Korea is included in the top three of the largest investors in Indonesia.
"During President Joko Widodo's state visit to South Korea a few weeks ago, the South Korean President agreed to renegotiate and restructure the joint project," Lembong said. "The two leaders have agreed that the renegotiation must be completed in 12 months," he concluded. (Humas Kemenko Polhukam/EN) (GWH/LW/Naster)