Gov't to Start COVID-19 Vaccination This Week
By
Office of Assistant to Deputy Cabinet Secretary for State Documents & Translation &nbsp &nbsp
Date
13 Januari 2021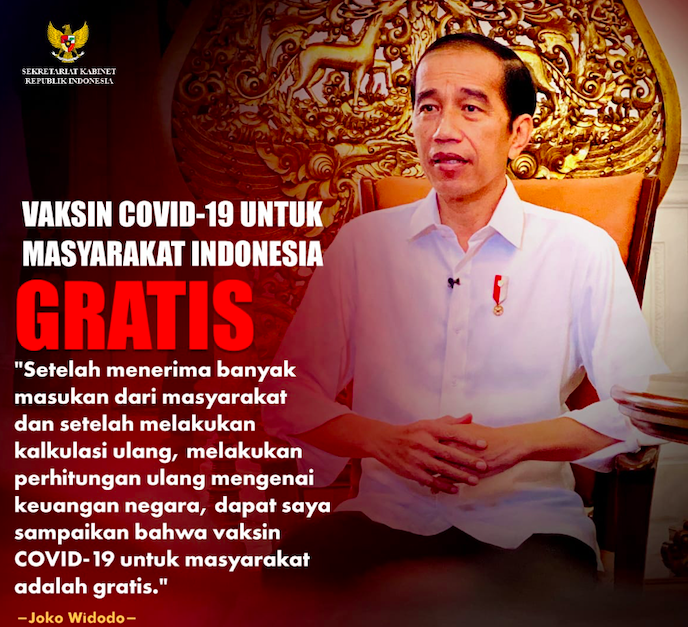 The Government has announced it will start a free COVID-19 vaccination program on Wednesday (13/1) with President Joko "Jokowi" Widodo becoming the first recipient of the vaccine.
"The Government will start (the vaccination) on Wednesday and President Jokowi will receive the first jab," said Minister of Health Budi Gunadi Sadikin on Monday (11/01) at the Presidential Office, Jakarta.
Previously, the Food and Drug Supervisory Agency (BPOM) has approved emergency use authorization (EUA) for the COVID-19 vaccine.
"Today on Monday (11/1), the BPOM granted an emergency use authorization for the first COVID-19 vaccine to the CoronoVac vaccine produced by Sinovac Biotech Inc. in collaboration with state-owned pharmacy company PT Bio Farma," Head of the BPOM Penny Lukito said on Monday (11/1).
In addition, the Indonesian Ulema Council (MUI) has also issued a fatwa status stating that the vaccine is halal.
"Regarding the halal aspect, after a long discussion the Fatwa Commission agreed that the COVID-19 vaccine produced by Sinovac Lifescience whose certification was submitted by PT Bio Farma is halal," said Chairperson of the MUI Fatwa Division Asrorun Niam Sholeh on Friday (08/1).
Budi also said that the vaccination program is one of the main strategies to solve COVID-19 pandemic and it will take more than 12 months to complete this program.
To that end, he asked for the support and participation from all Indonesian people.
"The Government hopes the public will support what we are doing because there is no way the Government can do this alone. I believe that together we can," said Budi.
For the record, the vaccines will be distributed to around 181.5 million Indonesians to obtain herd immunity and the implementation will be carried out in stages with the health workers as the frontline in handling COVID-19 becoming the first priority.
The next priority is public service officers and the elderly (60 years and above) and vaccination to the elderly group will be carried out after obtaining vaccine safety information, followed by vulnerable people with a high risk of transmission and other people according to the vaccine availability.
However, in line with the vaccination program, Budi still reminded the public to remain disciplined in observing health protocols because the pandemic has not ended yet.
"With the vaccination program still running, we still have to follow the health protocol; washing hands, wearing masks, and maintaining physical distancing," he said. (UN) (EST/EP)