Gov't to Transform Lake Toba into World-Class Tourist Destination
By
Office of Assistant to Deputy Cabinet Secretary for State Documents & Translation &nbsp &nbsp
Date
30 Juli 2019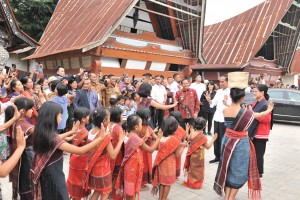 The Government is committed to improving Lake Toba tourist destination area and its surrounding areas since it has the potential to become a world-class tourist destination, President Joko "Jokowi" Widodo has said.
"We will manage tourist destinations in stages starting this year, including Ulos Village," the President told reporters after visiting the Indigenous Village and ulos (traditional Batak textiles) weaving craft in Kampung Ulos Hutaraja, Lumban Village Suhi Toruan, Pangururan District, Samosir Regency, Tuesday (30/7).
The President went on to say that the re-structuring of tourist destination will include revamping and relocation of buildings and local residences that are deemed not in accordance with Ulos Village, a traditional village.
To that end, the Government will prepare a master plan in a bid to lure investment to the area, one of which for the development of Situngkir white sand beach, he added
Such measure, the President added, will continue to be taken so that Lake Toba becomes a world-class tourist destination. "We have all the facilities that it takes to be a world-class tourist destination. The infrastructure development has already been started, then investment in Sibisa will also be pushed there," the President added.
Earlier, the President stated that there are 28 tourist destinations in the area around Lake Toba which will be divided into four clusters which represent history, culture, water recreation, and nature.
For the record, Lake Toba is included in the Government's top priority in a world-class National Tourism Strategic Area (KSPN) known as "the New Bali" (DNA/JAY/ES)
Translated by: Muhardi
Edited by: M. Ersan Pamungkas