Gov't Urges Airlines to Impose Reprimand to Travel Agents on Displaying Unreasonable Airfares
By
Office of Assistant to Deputy Cabinet Secretary for State Documents & Translation &nbsp &nbsp
Date
31 Mei 2019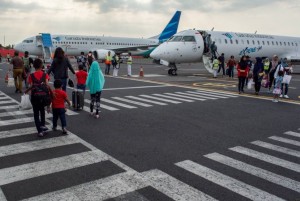 Ministry of Transportation has told airlines to impose a reprimand to their business partners for displaying exorbitant airplane ticket prices and displaying flights with several flight-transits.
"If airlines do not impose a reprimand to their business partners for displaying unreasonable prices on the consumer application screen, it will hurt the airlines' reputation," Director General for Air Transportation of Ministry of Transportation Polana B. Pramesti said in Jakarta, Thursday (30/5).

Polana added that the unreasonable prices and high demands for airline ticket during the holiday and Eid season will further add public confusion and reduce trust in the aviation industry.
Polana went on to say that the tickets displayed in the application are not direct flight tickets and pointed out several examples, including the lowest ticket price of Bandung-Medan route, with transit in Denpasar and Jakarta, is Rp.13,400,700 and the highest price is Rp.21,920,800, while the ticket price for Jakarta-Makassar route with transit in Jayapura and Makassar reaches Rp24,576,400.
Ticket app platforms, she added, also offer choices in accordance with the routes and dates that have been chosen by consumers or prospective passengers. After the prospective passenger chooses the route and date, the application engine will find all available flight schedules for that route on the selected date. The application will then filter out the available schedule, then display it on the customer's application screen, through which customers can sort the routes by price offered, including filtering certain types of airlines.
Because it is based on an algorithm engine, Polana added, the application would provide all available options, including flight routes with several flight-transits. She further said that if the consumers choose one route with several flight transits, they would be charged additional fees (compulsory insurance and passengers service charge) at the departure airport and two transit airports.
Polana further said that the application will bring up all routes that are still available for the flight schedule that consumers want, so the price becomes unreasonable because all routes are accumulated from each departure point to the first transit point, the second transit point, to the arrival point. (Humas Kemehub/ES)
Translated by: Ridwan Ibadurrohman
Edited by: Ersan Pamungkas