Health Minister Issues Technical Guidance for COVID-19 Treatment Cost Reimbursement
By
Office of Assistant to Deputy Cabinet Secretary for State Documents & Translation &nbsp &nbsp
Date
10 April 2020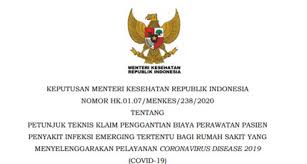 Minister of Health Terawan Agus Putranto has issued Minister of Health Decree number HK.01.07/MENKES/238/2020 on Technical Guidance for Reimbursement Claim for Treatment of Patient with Specific Emerging Infection in Hospitals that provide COVID-19 medical treatment.
The technical guidance aims to maintain service quality, cost efficiency, and continuity of health services for Covid-19 patients in hospitals.
Criteria for patients whose treatment costs can be claimed are: 1. People under surveillance (ODP) who is older than 60 years old with or without comorbidities and ODP who is younger than 60 years old with comorbidities, 2. Patients under treatment (PDP), 3. Patients testing positive for COVID-19.
The criteria apply to Indonesian citizens and foreign nationals who are treated in hospitals in the territory of the Unitary State of the Republic of Indonesia, including outpatient and inpatient medical facilities at referral hospitals and other hospitals that provide COVID-19 medical services.
The services that can be reimbursed should be in accordance with the service standards in the management guidelines for patients according to the patient's medical needs.
The cost reimbursement for outpatient and inpatient services include: administration of services, accommodation (rooms and services in emergency rooms, inpatient rooms, intensive care rooms, and isolation rooms), doctor services, medical treatment in the room, use of ventilators, consumable medical materials, diagnostic support examinations (laboratory and radiology in accordance with medical indications), drugs, medical devices including the use of PPE in the room, referrals, corpses treatment, and other health services according to medical indications.
The payment used in the cost reimbursement is the Ina CBG tariff and top up according to the length of treatment which is calculated as cost per day.
The procedure for claims starts from the hospital filing a claim for reimbursement collectively via e-mail to the Director General for Health Services, with a Carbon Copy to Social Security Agency for Health (BPJS Kesehatan) for verification and to the office of Health of District/Municipality.
The claim file for the reimbursement that can be submitted is for the patients treated since 28 January, 2020. The claim can be submitted by the hospital every 14 business days.
The BPJS Kesehatan should issue Minutes of Verification of Claims on Service Bill no later than seven business days after the claim is received by the BPJS Kesehatan. Ministry of Health will pay the hospital within three business days after receiving the Minutes of Claim Verification Results from the BPJS Kesehatan. (Public Relations of Ministry of Health/EN)
Translated by: Ridwan Ibadurrohman
Reviewed by: Mia Medyana