Health Ministry Warns of Nipah Virus Infection
By
Office of Assistant to Deputy Cabinet Secretary for State Documents & Translation &nbsp &nbsp
Date
27 September 2023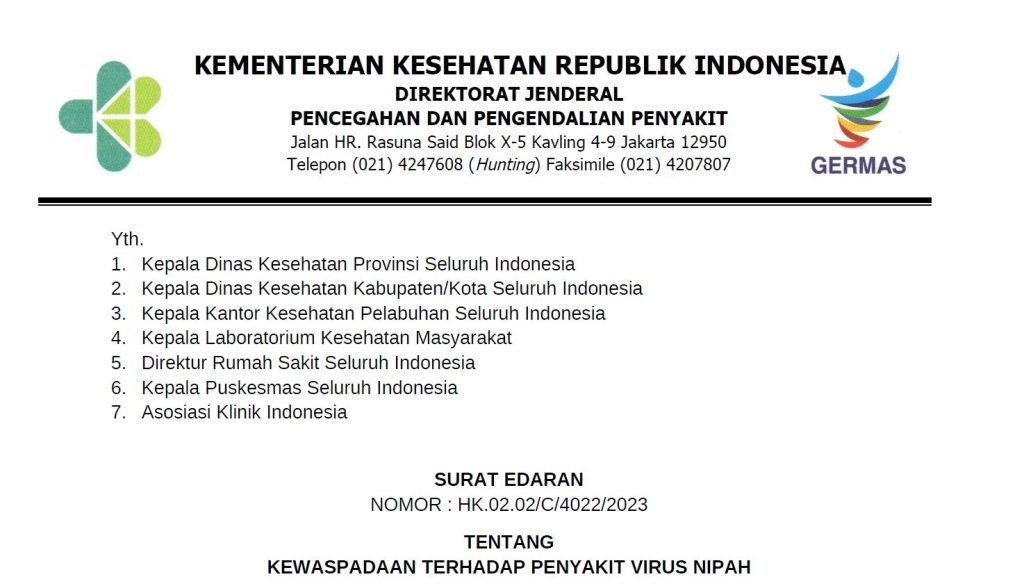 Ministry of Health's Directorate General for Disease Prevention and Control (Directorate General for P2P) has issued Circular Number HK.02.02/C/4022/2023 on Anticipatory Measures for Virus Nipah Disease.
The Circular was signed by Director General for P2P Maxi Rein Rondonuwu on September 25, 2023. According to him, the Circular aims to increase awareness for all stakeholders including Health Offices, Port Health Authorities, Public Health Laboratories, Hospitals, Public Health Centers, and Association of Indonesian Clinics related to early warning of Nipah Virus disease.
"So far, the presence of Nipah Virus in humans in Indonesia has not been widely detected. However, given Indonesia's geographical proximity to countries reporting outbreaks, there is a possible risk of outbreak," Maxi said.
Additionally, he ordered Port Health Authorities, Provincial and Regency/City Health Offices, and Health Service Facilities (Fasyankes) to monitor cases in affected countries at the global level through official channels of the Ministry of Health and the World Health Organization (WHO).
Furthermore, he instructed all related stakeholders to strengthen surveillance towards people (crew, personnel and passengers), conveyance, luggage, environment, vectors, disease-carrying animals at ports, airports, and cross-border posts (PLBN), especially those from infected countries.
He also urged to enhance early awareness by monitoring cases of acute febrile syndrome accompanied by acute respiratory symptoms or seizures or decreased consciousness and those who have a record of travelling from infected countries. Further detection and response can refer to the Guidelines for Prevention and Control of Nipah Disease.
Fasyankes was also ordered to monitor and report any case if found in accordance with the guidelines based on Event Based Surveillance (EBS) to Directorate General for P2P through Public Health Emergency Operation Centre (PHEOC) via telephone/Whatsapp 0877-7759-1097.
Moreover, Maxi also instructed the health offices to send specimens of suspected cases to Health Biology Laboratory Office (Balai Besar Laboratorium Biologi Kesehatan) at the Prof. Srie Oemijati Laboratory for examination.
As for suspected/probable/confirmed case reports from Fasyankes, Maxi added, an investigation must be carried out within 1×24 hours including close contact tracing. (PR or Ministry of Health/UN)(SI/AW/LW)