Heavy Rain Expected in Some Regions Due to Typhoon Mangkhut: BMKG
By
Office of Assistant to Deputy Cabinet Secretary for State Documents & Translation &nbsp &nbsp
Date
20 September 2018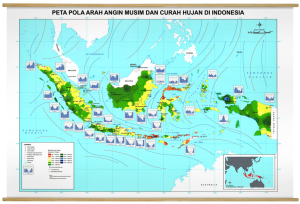 Altough Typhoon Mangkhut has moved away from the Indonesian territory since several days ago, the super typhoon has impacted weather in Indonesia as it is indicated by an attenuation of air mass movement from Australia to Indonesia, according to Deputy for Metereology Division of the Meteorology, Geophysics and Climatology Agency (BMKG) Mulyono R. Prabowo.
"We urged the people to brace for bigger potentials of rain in some parts of the country," Mulyono said on Wednesday (19/9).
He added that a cyclonic circulation in South China Sea, a rise in wet air humidity in the atmosphere between altitudes of 1,500 metres and 3,000 meters, and a change in speed and direction of the wind at the lowest layer of Earth's atmosphere (1,000 meters) that will form cumulonimbus clouds in some parts of Indonesia have been detected.  "The dynamics in the atmosphere is forecast to increase chances of heavy rain with thunder and lighting, as well as strong winds in several parts of Indonesia for the next three days (20-22 September 2018)" Mulyono added.
The regions which may experience heavy rains with thunder and lighting, as well as strong winds are the provinces of Aceh, Riau, Riau Islands, West Sumatra, Jambi, South Sumatra, Bangka Belitung, Lampung, Banten, Jakarta, West Java, Central Java, East Java, West Kalimantan, Central Kalimantan, North Kalimantan, and Papua.
In addition, high waves in the range of 2.5 – 4 meters are forecast to hit the western coast of Mentawai Island, Enggano, Bengkulu, western coast of Lampung, the Indian Ocean from Aceh to Lampung, Southern Sunda Strait, the southern coast of Java Island to Sumbawa Island, Bali Strait – Lombok – Southern Alas Strait, the Indian Ocean from  the southern part of Java to West Nusa Tenggara (NTB) province.
Mulyono also urged the people to stay vigilant and to prepare for potential impacts such as floods, landslides, flash floods, tornadoes, strong winds, fallen trees and slippery roads.
"For those who want to get the latest information, the BMKG provides a 24-hour weather information service via call center 021-6546315/18, our website http://www.bmkg.go.id, social media @infobmkg, and you may also contact the nearest BMKG office." (EN/Humas BMKG/ES) (RAS/EP/Naster)