Home Minister Calls for Measures to Tackle Greater Jakarta's Air Pollution
By
Office of Assistant to Deputy Cabinet Secretary for State Documents & Translation &nbsp &nbsp
Date
23 Agustus 2023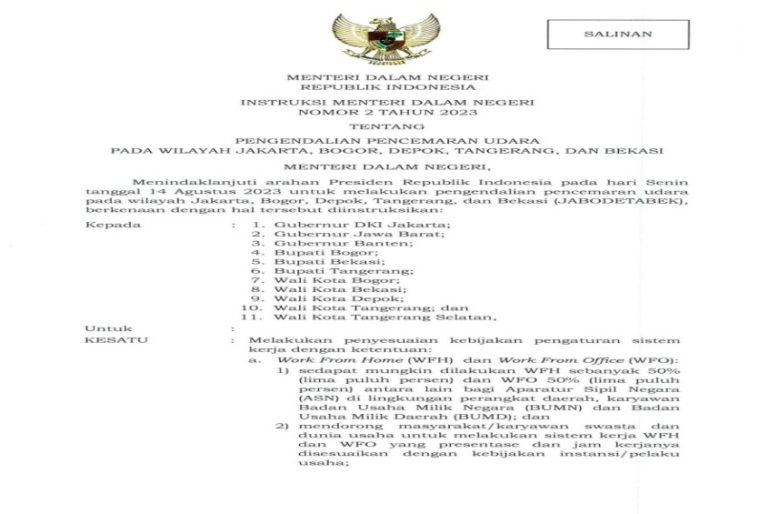 Minister of Home Affairs Tito Karnavian has issued Instruction Number 2 of 2023 to tackle air pollution in Greater Jakarta area.
The instruction states measures to be implemented by governor of Jakarta and governors in the surrounding provinces of West Java and Banten, as well as regents/mayors in Greater Jakarta area.
The instruction also calls for hybrid work system, motorized vehicle limitation, public transportation services, emission test, use of face mask, environmental emission control, green solution implementation, and industrial waste control.
According to Ministry of Home Affairs' Director General for Regional Administration Development Safrizal ZA, the ministerial instruction is a follow-up to the directive of President Joko "Jokowi" Widodo during the limited cabinet meeting on August 14.
"Regional governments have been ordered to make adjustment to work system policies by implementing 50 percent quota for work from home (WFH) and work from office (WFO) policies for civil servants, state-owned enterprises employees, and regional-owned enterprises employees, with the exception of front-line services," Safrizal said.
The instruction, Safrizal added, also orders regional governments to improve public transportation, tighten vehicle emission test program, and disseminate incentives for electric vehicles.
"Regional governments should control industrial waste management by increasing supervision, encouraging use of scrubbers in industrial sectors, conducting emission tests, imposing fine on offenders, and increasing renewable energy in industry," Safrizal said.
Safrizal further said that efforts to control air pollution in Greater Jakarta Area need to be carried out by optimizing coordination forum for regional leaders (forkopimda), and the Public Order Agency (Satpol PP) in enforcing regional regulations on air pollution control.
For the record, Instruction of Minister of Home Affairs Number 2 of 2023 comes into force from August 22, 2023 until further notice.  (PR of Ministry of Home Affairs/UN) (RI/EP)