Home Minister Issues Instruction on COVID-19 Mitigation during Christmas, New Year
By
Office of Assistant to Deputy Cabinet Secretary for State Documents & Translation &nbsp &nbsp
Date
23 November 2021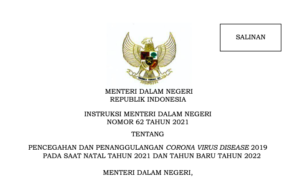 Minister of Home Affairs has issued Instruction Number 62 of 2021 on Prevention and Control of Corona Virus Disease 2019 (COVID-19) during Christmas 2021 and New Year 2022.
"The Ministerial Instruction will come into force from 24 December 2021 to 2 January 2022," The Instruction states.
The Instruction was signed by Minister of Home Affairs Tito Karnavian on November 22 and can be accessed on the official website of Ministry of Home Affairs.
The Instruction applies to Governors, Regents, Mayors and other relevant stakeholders. The provisions in the Instruction are as follows:
reactivating the COVID-19 Handling Task Force in regions;
implementing stricter health protocols, including wearing face masks, washing hands with soap/hand sanitizer, maintaining distance, reducing mobility, and avoiding crowds as well as strengthening testing, tracing, and treatment measures;
accelerating vaccination drive, especially for the elderly, to achieve the target by the end of December 2021;
strengthening coordination of the Regional Leadership Coordination Forum (Forkopimda) and other stakeholders;
dissemination of policy to ban mudik (annual exodus during holiday season), restrict travel, and tighten the arrival of travelers from abroad;
monitoring implementation of stricter health protocols in churches, shopping centers, and local tourist attractions;
prohibition of taking annual leave for personnel of State Civil Apparatus (ASN), the Indonesian National Defense Forces (TNI), the Indonesian National Police (Polri), State-Owned Enterprises (BUMN) and private employees during the Christmas and New Year holiday season; urging workers/laborers to postpone taking annual leave;
restrictions on school activities;
implementing activity restrictions (PPKM) Level 3 at weddings and similar events;
preventing arts, culture and sports activities from December 24, 2021 to January 2, 2022;
closing all public squares from December 31, 2021 until January 1, 2022;
managing activities of street vendors and maintaining distance between sellers and buyers;
optimizing the use of the PeduliLindungi application, as well as the PCR test or rapid test for domestic travelers;
strengthening control and supervision for travelers at check points in regions;
taking anticipatory measures in preventing public activities that can disrupt security or attract crowds, and taking anticipatory measures for natural disaster potential in December 2021 and January 2022.
The Instruction also stipulates health protocols for prayers during this year's Christmas, activity restrictions for New Year celebrations, and health protocols in tourist attractions.
"The matters not regulated in this Ministerial Instruction shall refer to Instructions of Minister of Home Affairs on Implementation of Activity Restrictions in Java and Bali Regions, and Instructions of Minister of Home Affairs on Implementation of Activity Restrictions in the Regions of Sumatra, Nusa Tenggara, Kalimantan, Sulawesi, Maluku, and Papua, the Instruction reads. (PR of Ministry of Home Affairs /UN) (RI/LW)