Hot Air Temperatures to Remain Until Next Week, BMKG Says
By
Office of Assistant to Deputy Cabinet Secretary for State Documents & Translation &nbsp &nbsp
Date
22 Oktober 2019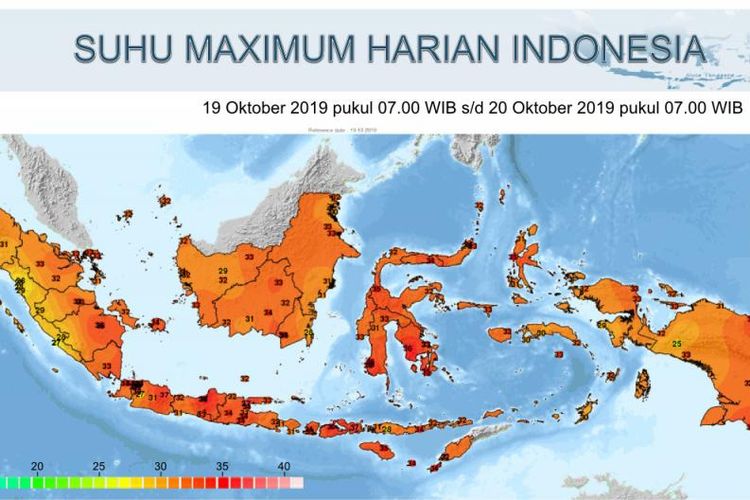 The Meteorology, Climatology, and Geophysics Agency (BMKG) has reported that the recent hot temperatures that hit a number of regions will continue to occur until next week.
"The sun's apparent position will continue to the south and atmospheric are still dry enough so that it barely created the clouds that can block the sun," the Agency's Deputy for Meteorology Mulyono R. Prabowo said in a press release on Monday (21/10).
Until 19 October 2019, the BMKG recorded a maximum air temperature of 37oC. Moreover, on 20 October 2019 there were three BMKG observation stations in Sulawesi that recorded a higher temperature than the previous day, namely in Makassar (38.8oC), Maros (38.3oC), and Sangia Ni Bandera (37.8oC).
"That is the highest temperature record in the past year," Mulyono said, adding that the maximum air temperature on the Island of Java to Nusa Tenggara was recorded of 35-36.5oC on the same date.
According to Mulyono, in September the sun revolves around the equator and will continue to move to the southern hemisphere until December; hence in October, the apparent position of the sun will be around the southern part of Indonesia (South Sulawesi, Java, Bali, Nusa Tenggara, etc.).
"The condition causes more solar radiation exposes the earth's surface and it will increase the air temperature during the day," he added.
In the last two days of monitoring, the atmosphere in the southern part of Indonesia is relatively dry so that it greatly inhibits the growth of clouds that can help to block the sun's heat, Mulyono said.
He also mentioned that the apparent motion of the sun is a normal cycle and occurs every year.
The BMKG urges people to drink enough water to avoid dehydration, wear clothing that protects the skin from the sun if doing outdoor activities, and be aware of activities that can trigger forest and land fires, especially in areas that have high potential for forest and land fires.
In addition, BMKG also warned the public of strong winds that could occur on the Islands of Java, Bali, West Nusa Tenggara, East Nusa Tenggara, South Sulawesi, and South Kalimantan.
For those who want to get the latest information from the BMKG, the BMKG opens a 24-hour weather information service through call center 021-6546315/18; http://bmkg.go.id; follow @infobmkg on Twitter; or directly contact the nearest BMKG office. (EN/ES)
Translated by: Galuh Wicaksono
Edited by: Yuyu Mulyani