Indonesia, Czech Committed to Enhancing Cooperation in Various Sectors
By
Office of Assistant to Deputy Cabinet Secretary for State Documents & Translation &nbsp &nbsp
Date
18 April 2023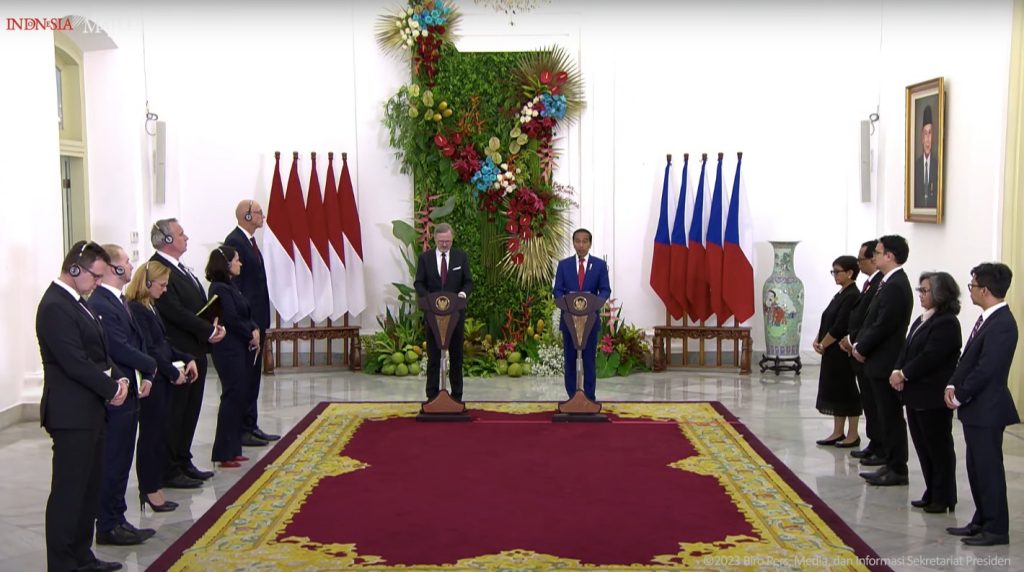 President Joko "Jokowi" Widodo and Prime Minister (PM) of the Czech Republic Petr Fiala are committed to enhancing the partnership between Indonesia and the Czech Republic.
The President made the statement in a joint press statement with PM Fiala after a bilateral meeting at the Bogor Presidential Palace, West Java province, Tuesday (04/18).
"PM Fiala's visit was the first by a Czech government to Indonesia. Czech businessmen also attended this visit, reflecting their commitment to building and strengthening cooperation," said the President.
At the meeting, the two leaders discussed cooperations in the sectors of trade, investment, defense and strategic industries. They also discussed issues in the ASEAN as well as the Indo-Pacific, and plan to hold the ASEAN Indo-Pacific Infrastructure Forum (AIPIF) in September 2023.
In the trade sector, President Jokowi pushed for the completion of the Indonesia-European Union Comprehensive Economic Partnership Agreement (Indonesia-EU CEPA) negotiations. The President also underlined a number of European Union regulations which he considered discriminatory.
"We also agreed to explore joint production cooperation between strategic industries, technology transfer, and capacity building," said the President.
In the investment sector, the President invited the Czechs to be involved in the development of the Nusantara Capital (IKN).
"I invite the Czechs to invest in Nusantara Capital, especially in the field of environmentally friendly mass transportation," he said. (FID/UN) (EST/MMB)