Indonesia' Economic Growth Highest Since 2014: BPS
By
Office of Assistant to Deputy Cabinet Secretary for State Documents & Translation &nbsp &nbsp
Date
5 Februari 2018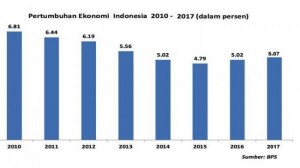 The Central Statistics Agency (BPS) reported that Indonesia's economic growth last year reached 5.07 percent, higher than that in 2016 at 5.03 percent.
The 2017 economic growth figure is event the highest since 2014.
The BPS data also shows that economic growth during the first year of the Administration of President Joko 'Jokowi' Widodo and Vice President Jusuf Kalla in 2014 reached 5.02 percent, then it dropped into 4.79 percent in 2015, and rose again in 2016 into 5.03 percent and in 2017 it stood at 5.07 percent.
BPS Chairperson Dr. Suhariyanto added that economic growth in 2017 is recorded in all sectors, with information and communication sector recording the highest growth at 9.81 percent, followed by other service sectors at 8.66 percent, as well as transportation and warehouses sector at 8.49 percent.
"In terms of source of Indonesia's economic growth in 2017, processing industry reports the highest source of growth at 0.91 percent, followed by construction sector at 0.67 percent, as well as retail-major trades and car-motorcycle repair sector at 0.59 percent," Suhariyanto said at BPS Headquarter in Jakarta, Monday (5/2).
Suhariyanto added that the structure of Indonesia's economy based on business sectors in 2017 is dominated by three main business sectors, namely: processing industries (20.16 percent); agriculture, forestry and fisheries (13.14 percent); as well as retail-major trade and car-motorcycle reparation (13.01 percent).
In terms of region, Suhariyanto said Indonesia's economy in 2017 is still dominated by Java that contributes 58.49 percent to the country's Gross Domestic Product (GDP), followed by Sumatera that contributes 21.66 percent, Kalimantan that contributes 8.20 percent, Sulawesi that contributes 6.11 percent, and other islands that contribute 5.54 percent.
The BPS Chairperson also said that in the fourth quarter in 2017, the economy grows by 5.19 percent compared to that in same period in 2016 (year on year). He added that in terms of production, the highest growth is recorded in service business sector at 9.25 percent, while in terms of spending, the highest growth is reported by service and good export component sector at 8.50 percent.
"Indonesia's economy in the fourth quarter in 2017 compared to that in the previous quarter (quarter to quarter) reports a 1.70 percent contraction," Suhariyanto said, adding that seen from the production aspect, this is due to seasonal effects in agriculture, forestry and fisheries sectors that experience a 21.60 percent contraction. In terms of spending, Suhariyanto added, this is caused by the drop in exports.  (Humas BPS/ES) (EP/YM/Naster)