Indonesia Exports 8,900 Tons of Fishery Products
By
Office of Assistant to Deputy Cabinet Secretary for State Documents & Translation &nbsp &nbsp
Date
20 Juli 2019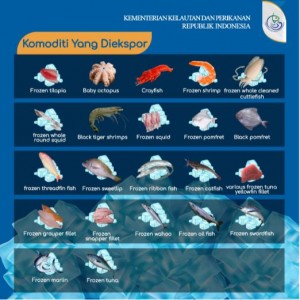 In an event dubbed as the Grand Export of Fishery Products, the Indonesian Government exported fishery products in a large volume simultaneously through the country's five major ports, namely Tanjung Priok, in Jakarta, Tanjung Perak in Surabaya, Tanjung Emas in Semarang, Belawan in Medan and Soekarno Hatta, in Makassar.
The event also aims to celebrate this year's Quarantine, Quality and Fisheries Product Month.
As many as 394 containers of fishery products with a total volume of 8,938.76 tons and worth Rp588,792,536,000 were exported to a number of countries.
"Those fishery products were exported to 21 countries, including the United States, European Union countries, China, Spain, Singapore, Sri Lanka, Hong Kong, Japan, South Korea, Thailand, Vietnam, Austria, Malaysia, France, Puerto Rico, Italy, the Netherlands, Australia, England, Denmark, and Greece," Minister of Maritime Affairs and Fisheries Susi Pudjiastuti said during the inauguration ceremony of the event at Tanjung Priok Port in North Jakarta, Friday.
According to Susi, 147 fisheries companies under supervision of the Agency for Fish Quarantine, Quality Control and Fishery Products Safety (BKIPM) in Medan, Jakarta, Cirebon, Semarang, Surabaya and Makassar take part in this event, which also also involves five regional BKIPM, namely BKIPM Jakarta II, BKIPM Surabaya II, BKIPM Semarang, BKIPM Medan II, and BKIPM Makassar.
For the record, fish imported in this event are among others frozen tillapia, baby octopus, crayfish, frozen shrimp, frozen whole cleaned cuttlefish, frozen whole round squid, frozen black tiger shrimps, frozen squid, frozen pomfret, frozen cuttle fish, frozen black pomfret, frozen threadfin fish, frozen sweetlip, frozen ribbon fish, frozen shark fish, frozen squid, frozen catfish, frozen ribbon fish, various frozen tuna yellowfin fillet, frozen grouper fillet, frozen snapper fillet, frozen wahoo, frozen oil fish, frozen swordfish, frozen marlin, and frozen tuna.
Susi said that Indonesian has seen growth of its fisheries industry thanks to the Government' measures to combat Illegal, Unreported, and Unregulated (IUU) Fishing in recent years. "Since 2014, Ministry of Maritime Affairs and Fisheries has sunk 516 illegal fishing vessels, while in the first semester of 2019 alone, the Ministry captured 67 illegal fishing vessels," she said.
The Minister pointed out that the fight against IUU fishing had brought positive impacts on National Fish Stocks, adding that based on the results of a study by the National Commission on Fish Stock Assessment, Indonesia's fisheries Maximum Sustainable Yield (MSY) shows a very significant increase, from 7.3 million tons in 2015 to 12.54 million tons in 2017, or increased by 71, 78 percent.
The increase in fish stocks, she added, was followed by an increase in the number and value of capture fisheries production.
Capture fisheries production increased from 6.67 million tons worth Rp120.6 trillion in 2015 to 7.3 million tons worth Rp210.7 trillion in 2018, meaning that there was an increase in the value of fisheries production by 74.7 percent, she added.
In the meantime, the increase in capture fisheries production has brought an impact on the production of the Fish Processing Unit (UPI) under supervision of Ministry of Maritime Affairs and Fisheries and eventually led to an increase in fisheries commodity exports.
Indonesia's fishery product export growth also rose by 45.9 percent from 654,950 tons worth US$3.87 billion in 2015 to 955,880 tons worth US$5.17 billion in 2018.
Until today, Indonesia's fishery products have been exported to more than 157 countries worldwide. The United States remains the top main export destination for Indonesia's fish products, followed by China, Japan, Australia, Singapore, Thailand, Malaysia, Taiwan, Italy and Vietnam.
"In 2015 Indonesia's trade balance finally became the number one in Southeast Asia and Indonesia is now listed as the world's largest tuna exporter," Susi said.
Susi expressed hope that national ship productivity will continue to increase and fisheries-based development can be evenly distributed across the country.
She also expressed hope that welfare of the country's traditional fishermen will continue to improve, adding that the Grand Export of Fishery Products event is also expected to encourage the spirit of local entrepreneurs to increase their production and quality of their products. (Public Relations of Ministry of Marine Affairs and Fisheries / ES)
Translated by: Estu Widyamurti
Edited by: M. Ersan Pamungkas