Indonesia Gets Hajj Quota of 221,000 This Year
By
Office of Assistant to Deputy Cabinet Secretary for State Documents & Translation &nbsp &nbsp
Date
22 Januari 2019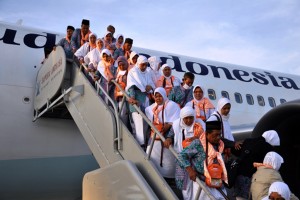 The Indonesian Government stated that Hajj quota for Indonesia in 2019 is 221,000 hajj pilgrims, including 204,000 for regular Hajj and 17,000 for special Hajj. In addition, starting from this year, prospective pilgrims are required to record biometrics in Indonesia.
"The Government of Saudi Arabia has appointed VFS Thaseel as a biometric record company for this year," Deputy for Education and Religion Coordination of Coordinating Ministry for Human Development and Culture Agus Sartono said during Coordination Meeting for the 2019 Hajj Pilgrimage Preparation in Jakarta, Monday (21/1).

Agus explained that biometric record requirement was officially implemented on 17 December 2018. He added that VFS Thaseel requires Hajj pilgrims in each country to carry out their own biometric record process before applying visa. The same requirement also applies for those who travel to Saudi Arabia for Umrah.
In the meantime, the meeting also discussed the evaluation of the 2018 Hajj pilgrimage and preparation for the 2019 Hajj pilgrimage. This year, the Government will implement fast track immigration for Hajj pilgrims, provide hotels in Medina with a full season pattern, give number for tents in Arafat and Mina based on flight group of embarkation, provide air conditioners for tents in Arafat, revitalize the operational task force of Arafat Muzdalifah Mina, and provide guidance for the Hajj rituals.
The meeting has also resulted in some recommendations, including that the local office (Daker) should also serve as an integrated service center, integrated health services should be available for Hajj pilgrims, Kertajati Airport should be ready for the 2019 hajj embarkation, and Sultan Syarif Kasim II Airport should be ready for hajj embarkation hub in 2019.
Agus further said that the meeting also advises Minister of Religious Affairs to provide funding for the construction of Hajj dormitory near Kertajati Airport in 2019, advises PT Angkasa Pura to immediately extend the runway to 3000 meters before the 2019 hajj season, advises both Ministry of Transportation and Air Nav to immediately request flight slots to the Government of Saudi Arabia, and advises Riau Regional Government and Ministry of Religious Affairs to provide Hajj Dormitory near Sultan Syarif Kasim II Airport in 2019. (Humas Kemenko PMK/ES)
Translated by: Ridwan Ibadurrohman
Edited by: Yuyu Mulyani