Indonesia Lion Air Crashes Minutes After Takeoff
By
Office of Assistant to Deputy Cabinet Secretary for State Documents & Translation &nbsp &nbsp
Date
29 Oktober 2018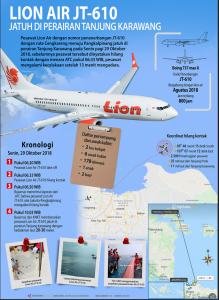 The National Search and Rescue Agency (Basarnas) has discovered the debris of the Lion Air flight number JT610 enroute to Depati Amir Airport, Pangkal Pinang from Soekarno Hatta Airport, Banten. The plane lost contact with air traffic control 13 minutes after taking off and fell in the water at north of Karawang, West Java province, with 30 -35 meters depth, on Monday (10/29).
Currently the Directorate General of Air Transportation of Ministry of Transportation continues to coordinate with the Basarnas, the Lion Air Airlines, the Directorate General of Sea Transportation and the Indonesian Flight Navigation Services Institution (LPPNPI) to conduct search and rescue efforts.
The aircraft carried 181 passengers, consisting of 124 men, 54 women, one child and 2 infants. There were also two pilots and six flight attendants on the plane, according to the Basarnas.
Following is the list of Lion Air JT610 passengers, which was cited from information center of Ministry of Transportation:
Rang Adiprana
Vivian Afifa
Indra Bayu Aji
Firmansyah Akbar
Wahyu Alldila
Resky Amalia
Restia Amelia
Muhammad Andrian
Anggrimulja
Dede Angraini
Liu Anto
Vicky Ardian
Arfiyandi
Reni Ariyanti
Riyan Aryandi
Chairul Aswan
Paul Ayorbaba
Fauzan Azima
Naqiya Azmi
Berly Boen
Adoni Bongkal
Matth Bongkal
Hari Budianto
Budiastuti
Ken Cannavaro
Liu Chandra
Fe Christanto
Ariska Cici
Dadang
Nursi Damanik
Dia Damayanti
Dary Daryanto
Janu Daryoko
Prato Dewanto
Inayah Dewi
Jannatun Dewi
Sui Di
Dolar
Dony
Dwinanto
Abdul Efendi
Efendi
Jan Efriyanto
Sri Endang
Eryanto
Xhe Fachridzi
Mohammad Fadillah
Der Febrianto
Filzaladi
Fiona Ayu Zen
Trie Gautama
Achmad Hadi
Tri Hafidzi
Fifi Hajanto
Ibnu Hantoro
Hardy
Fais Harharah
Darw Harianto
Har Harwinoko
Chandra Hasan
Has Hasnawati
Hedy
Hendra
Herju Herjuno
Dewi Herlina
Henny Heuw
Ambo Malis HM
A Innajatullah
Dicky Jatnika
Ervin Jayanti
Muhammad Jufri
Tami Julian
Juma Jumalih
HK Junaidi
Dodi Junaidi
Vera Junita
Karmin Karmin
Y Kartikawati
Kasan
Tesa Kausar
Abdul Khaer
Sui Khiun
Khotijah
Chandra Kirana
Ariauw Komardy
Igan Kurnia
Mariya Kusum
Liany
Linda
Luhba Toruan
Mahheru
Andr Mangredi
Martono
Sekar Maulana
Mito
Moejiono
Monni
Msyafii
Akma Mugnish
Murdiman
Murita
.Muhammad Nasir
Njat Ngo
Nie Nie
Zulva Ningrum
NoeGrohantoro
Noorviantoro
Agil Nugroho
Hesti Nuraini
Joyo Nuroso
Nurramdhani
Onggomardoyo
Yoga Perdana
Chris Prabowo
Riwan Pranata
Rio Pratam
Junior Priadi
Ruslian Purba
Puspita Putri
Fatikah Putty
N Rabagus
Shan Ramadhan
Ruma Ramadhan
Muchta Rasyid
Ema Ratnapuri
Rebiyanti
Nur Rezkianti
Rijalmahdi
Muhammad Riyadi
Imam Riyanto
Akhim Rokhmana
Romhan Sagala
Sah Sahabudin
Martua Sahata
Ubaidi Salabi
Nikky Santoso
Yunit Sapitri
Mawar Sariati
Ase Saripudin
Hi Saroinsong
Sas Sastiarta
Rudolf Sayers
Nata Setiawan
Cosa R Shabab
Shella
Sian
Man Sihombing
Yul Silvianti
Nu Sitharesmi
Nia Soegiyono
Rizal Sputra
Mack Stanil
Eka M Suganda
Rank Sukandar
Idha Susanti
Rober Susanto
Wahyu Susilo
Eko  Sutanto
Eling Sutikno
Sya Syahrudin
Hendra Tanjaya
Tan Mr Toni
Trianingsih
Maria Ulfah
Bambang Usman
Verian Utama
Miche Vergina
Wanto
Wendy
Radik Widjaya
Krisma Wijaya
Daniel Wijaya
Andr Wiranofa
Witaseriani
Wulurastuti
Nicko Yogha
Reo Yumitro
Yuniarsi
Yunita
Infant 1
Infant 2
In addition to the 181 passengers, the aircraft also carries 8 crews:
Bhavve Suneja (Pilot)
Harvino (Co-pilot)
Shintia Melina (Flight attendants' supervisor)
Deny Maula
Citra Novita Anggelia Putri (Flight attendant)
Alfiani Hidayatul Solikah (Flight attendant)
Fita Damayanti Simarmata (Flight attendant)
Mery Yulyanda (Flight attendant)
(EN/Humas Kemenhub/ES)
Translated by: Estu Widyamurti
Edited by: Mia Medyana