Indonesia Reaches Vaccination Target Ahead of Schedule Set by WHO
By
Office of Assistant to Deputy Cabinet Secretary for State Documents & Translation &nbsp &nbsp
Date
15 November 2021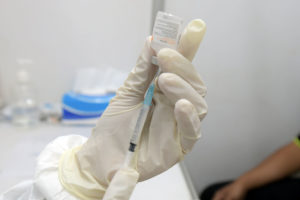 The Indonesian Government has met the target set by World Health Organization (WHO) to inoculate at least 40 percent of its population by the end of the year.
"Indonesia has managed to meet the target faster [than schedule]," Ministriy of Health's Spokesperson for COVID-19 Vaccination Siti Nadia Tarmizi said, Monday (15/11).
Based on data from the Ministry as of Sunday (14/10) at 18.00 Western Indonesian Time, vaccination coverage in the country has reached 215.6 million doses of COVID-19 vaccines.
About 130.3 million or 62.5 percent of the 208.2 million people have received the first dose and more than 84.1 million or 40.4 percent have received the second dose, while the booster shot for health workers has been given to around 1.19 million people or 81 percent of the target.
"We can meet this target thanks to the hard work of those involed in the vaccination and the participation of all Indonesian people who are willing to receive the jabs," Nadia said.
Nadia stressed that with an additional four million doses of Sinovac vaccine that arrived on Saturday (13/11), the number of COVID-19 vaccines that has arrived in Indonesia reached 342.5 million doses, both in finished form and raw materials or bulk.
Nadia also appealed to the public not to have doubts about the existing vaccines, saying. that there is no need to choose a vaccine brand and the people should immediately use the vaccines currently available.
"The Government guarantees that the vaccines given are safe, quality-assured, and efficacious," she said, adding that the vaccination aims to make the body to be relatively more resistant to viral attacks, including in terms of avoiding symptoms, receiving hospitalization, or avoiding risk of death.
"However, [vaccines] don't make a person 100 percent immune to viral infections so they can still get infected and infect [others]. For the vaccinated, they must continue observing out the 5M health protocols (wearing a face mask, maintaining a safe distance, washing hands, reducing mobility, and avoiding crowds)," she said. (PR of Ministry of Health/UN)(FI/EP)