Indonesia Receives Another Batch of AstraZeneca Vaccine
By
Office of Assistant to Deputy Cabinet Secretary for State Documents & Translation &nbsp &nbsp
Date
10 Juni 2021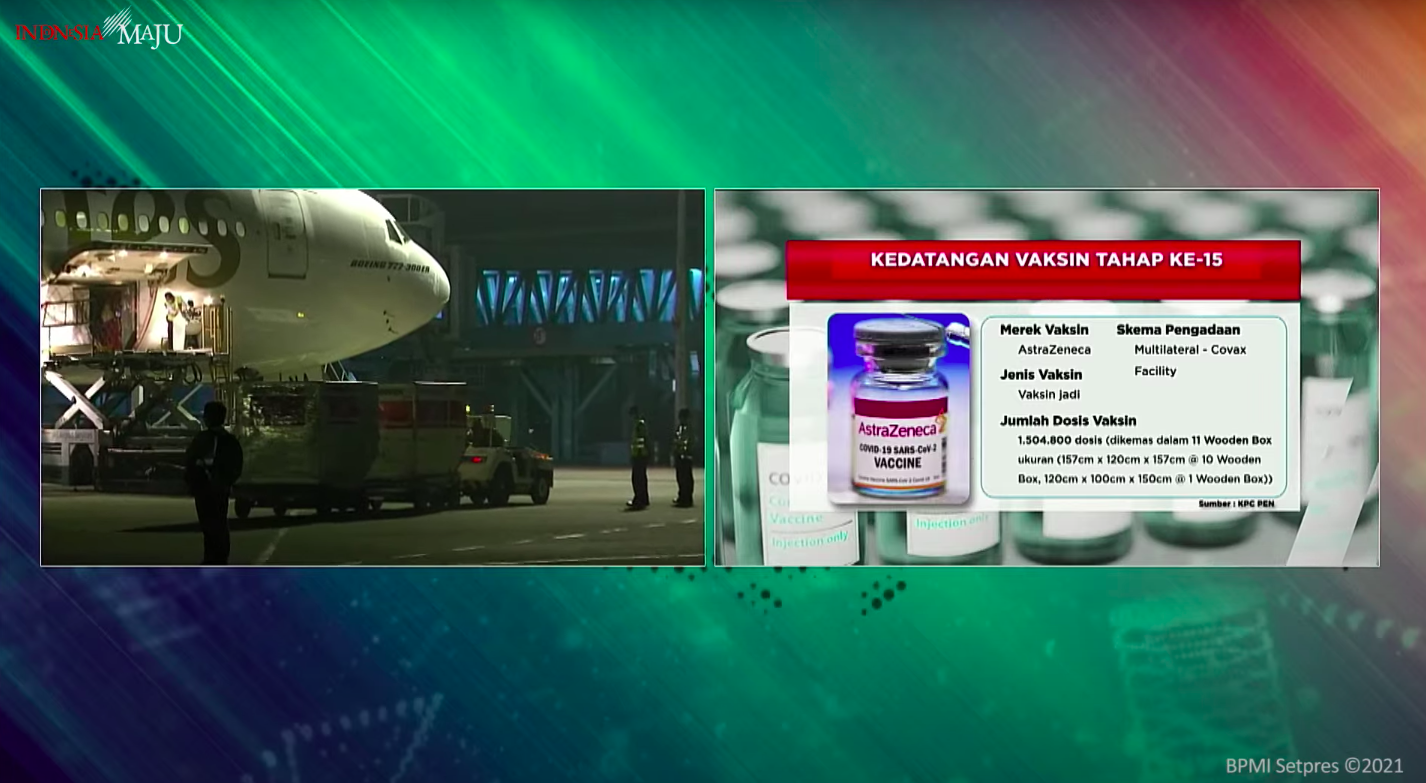 A total of 1,504,800 doses of ready-to-use COVID-19 vaccine manufactured by AstraZeneca has arrived at Soekarno Hatta Airport in Tangerang, Banten Province, Thursday (10/6).
The vaccine was obtained through COVAX Facility multilateral cooperation.
"Alhamdulillah, Thank God, this evening Indonesia received 1,504,800 doses of AstraZeneca vaccine through the COVAX Facility multilateral initiative. Previously on 5 June 2021, Indonesia received 313,100 doses of AstraZeneca vaccine, also from the COVAX Facility," Minister of Foreign Affairs Retno LP Marsudi said in her press statement.
With the arrival of the AstraZeneca vaccine on 5 and 10 June, the Minister added, the total doses of ready-to-use AstraZeneca vaccine received by Indonesia for free from COVAX Facility was 8,228,400.
Overall, the total of vaccine that Indonesia has received amount to 93,728,400 doses of vaccine, namely 84.5 million doses of Sinovac vaccine, 8,228,400 doses of AstraZeneca vaccine, and one million doses of Sinopharm vaccine.
"In addition, God willing, tomorrow afternoon on Friday (11/6), one million doses of Sinopharm vaccine will also arrive and will be used for the Gotong Royong (mutual cooperation) vaccine program," the Minister said.
On that occasion, Retno also underscored that the three types of vaccines above used for COVID-19 vaccination program in the country have obtained Emergency Use Listing (EUL) from the World Health Organization (WHO).
"This certainly shows that the vaccines used in Indonesia have met international requirement in terms of quality, security, and effectiveness for use during health emergencies," she said.
The Minister also stated that there are six types of vaccines that have obtained EUL from WHO, namely Sinovac, AstraZeneca, Sinopharm, Pfizer, Johnson & Johnson, and Moderna. (SLN/UN) (FI/EP)