Indonesia to Host First Presidential Candidates Debate
By
Office of Assistant to Deputy Cabinet Secretary for State Documents & Translation &nbsp &nbsp
Date
17 Januari 2019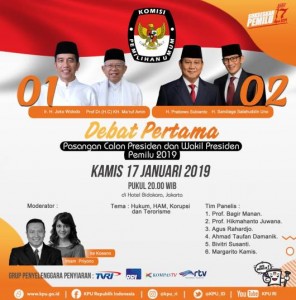 The Indonesia's presidential and vice presidential candidates for the upcoming 2019 election will face each other at their first TV debate with the theme Law, Human Rights, Corruption, and Terrorism on Thursday (17/1) evening.
There are 5 (five) panelists who will present, namely Prof. Bagir Manan, Prof. Hikmahanto Juwana, Ahmad Taufan Damanik, Bivitri Susanto, and Margarito Kamis. Ira Koesno and Imam Priyono are set to host the event, which will be broadcast across several national television networks, including TVRI, RRI, Kompas TV and Rajawali TV live from Bidakara Hotel, Jakarta.
The General Election Commission (KPU) invited the public to watch the debate to find out each candidate's vision for the country.
"I suggest the voters to witness the debate as this opportunity will help them to decide their choice on the 17 April 2019 election," said Chairman of the KPU Arief Budiman.
KPU member Wahyu Setiawan reported that the preparation of the debate had gone well.
As much as 500 invitations were sent to the campaign teams for each candidate as well as a number of guests invited by the KPU, such as national leaders, community leaders, religious leaders, academics, youth leaders, cultural figures, students and activists of democracy. "The KPU also invited the former presidents and vice presidents to attend the debate," Wahyu added.
According to Wahyu, the KPU had also prepared two giant screens outside the building to accommodate people who want to watch the debate live. These two screens are placed separately to maintain peace between two candidates' supporters during the debate. (PR KPU / ES))
Translated by: Estu Widyamurti
Edited by: Yuyu Mulyani