Indonesia Vaccination Coverage Surpasses 50 Percent
By
Office of Assistant to Deputy Cabinet Secretary for State Documents & Translation &nbsp &nbsp
Date
15 Oktober 2021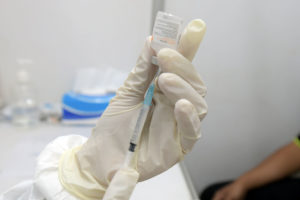 In a bid to immediately achieve herd immunity, the Government continues to accelerate the national COVID-19 vaccination drive. Out of 208.27 million people targeted to receive COVID-19 vaccines, more than 50 percent of them have received their first dose of vaccine.
"I would like to thank all Indonesian people who have taken an important part in our efforts to tackle the pandemic," Ministry of Health's Spokesperson Siti Nadia Tarmizi said in Jakarta, Friday (15/10).
Citing the data from Ministry of Health as of 15 October 2021 at 06.00 p.m. Western Indonesian Time, the first dose of vaccine has been administered to 105.8 million people (50.8 percent), while the second dose of vaccine has been administered to 61.76 million people (29.65 percent).
"I also would like to express gratitude and appreciation for the support and collaboration of all stakeholders including health workers, the Indonesian National Defense Forces (TNI)/the National Police (Polri), ministries/institutions, parliament, business actors, volunteers, and other related parties," Nadia said, adding that this achievement is the result of joint work of all elements of society.
According to Nadia, one of the breakthroughs made to increase vaccination coverage is by bringing vaccination centers closer to the people as well as by collaborating with the private sector and community. The collaboration—which includes support for vaccination sites, vaccinator team, education and community mobilization, facilities and infrastructure—has proven to be effective in boosting the number of vaccinated people.
In addition, the Ministry also implements social strategies and approaches so the vaccination drive can reach people living in remote areas, country borders, and outer islands.
"Through the right collaboration and strategy, we are optimistic that COVID-19 vaccination coverage target can be achieved soon," Nadia remarked. (Ministry of Health PR/UN) (GWH/MMB)