Indonesian Cities Must be Friendly to Pedestrians, Cyclists, Public Transport Users: Presidential Envoy
By
Office of Assistant to Deputy Cabinet Secretary for State Documents & Translation &nbsp &nbsp
Date
7 Oktober 2016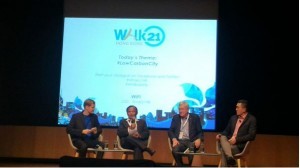 Presidential Special Envoy for Climate Change Rachmat Witoelar said that Indonesia still has to work hard to make its cities friendly to pedestrians, cyclists, and public transport users.
According to him, walking, cycling, and using public transport produce low greenhouse gas emissions.
"This move will not only help efforts to control climate change but can also become an alternative sport that canpromotepeople's better health, reduce air pollution and traffic congestion as well as improve quality of life of the people," Rachmat said in his keynote speech at Walk21 Hong Kong, Thursday (6/10).
Rachmat added thatboth the Central Government and regional governments have taken a number of initiatives to make Indonesian cities friendly for pedestrians, cyclists, and public transport users.
He cited the example of the Government's Green City Program, in which of the implementations is the Green Transportation program that integrateinfrastructures for pedestrians, cyclists, and public transport users.
"Several cities in Indonesia have begun building transportation infrastructures that pay more attention to pedestrians, cyclists, and public transport users in a bid to reduce people's dependency to private vehicles that cause traffic congestion, air pollution, and high greenhouse gas emissions," Rachmat said, adding that this move must be supported and other citiesshould immediately follow suit.
Rachmat went on to say that a number of main programs in Indonesia's National Medium-Term Development Plan (RPJMN) include the development of sustainable mass transportation in a number of cities in Indonesia, both in Java and other islands, in an effort to materialize equal development and to reduce uncontrolled urbanization.
Rachmat further said that the Government is currently focused on building train-based public transports, not only in Java but also in other islands.
Nevertheless, it is also important to grow the people's interest to walk, to use bicycle, and to use public transport, he said.
Walk21 Hong Kong is an annual conference for a number of stakeholders in the field of sustainable transportation, especially options for pedestrians. At this year's conference, 580 participants from 58 countries took part in the 5-day conference held at Hong Kong Convention and Exhibition Center between 3-7 October 2016.(UKP PPI/ES) (EP/YM/Naster)