Indonesia's Credit Rating Has Stable Outlook: Report
By
Office of Assistant to Deputy Cabinet Secretary for State Documents & Translation &nbsp &nbsp
Date
2 Juni 2019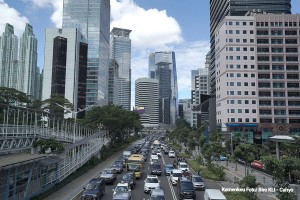 The Standard & Poor's (S&P) Global Ratings has upgraded Indonesia's rating by one level to BBB, with a stable outlook.
The improvement in Indonesia's credit rating is an exceptional achievement as it jumped from BBB-/stable to BBB/stable, without going through BBB-/positive.
In its report, S&P stated that the Indonesian economy was consistently better than economy of its peer countries with the same income level.
Indonesia's growth on real GDP per capita was also able to reach 4.1% based on the 10-year weighted average, while, the average growth of real GDP per capita worldwide is only around 2.2%.
Furthermore, S&P stated that Indonesia's rating was supported by the low level of government debt burden and moderate fiscal performance.
In the meantime, the drop in the Government deficit in 2018 is expected to remain stable below 2% over the next four years.
S&P also projects general government net debt to remain below 30% of GDP, given the steady fiscal deficit and nominal GDP growth.
S&P also expressed belief that Indonesia's foreign debt burden is still very safe because the country is still very appealing for Foreign Direct Investment (FDI) and also thanks to its strong access to international financial markets amidst turmoil and uncertainty.
This increase in ratings also shows that the Government's policies have been on the right track where deficit policies are taken to provide economic stimulus through a countercyclical strategy to maintain economic growth above 5%. The increase shows confidence from international institutions in Indonesia's economy. (Ministry of Finance PR/EN)
Translated by : Fairuzzamani Inayatillah
Edited by : M. Ersan Pamungkas