Investment Realization in 2015-2018 Exceeds Target: Investment Board
By
Office of Assistant to Deputy Cabinet Secretary for State Documents & Translation &nbsp &nbsp
Date
12 Maret 2019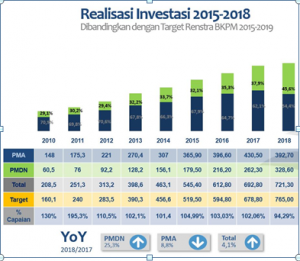 The Investment Coordinating Board (BKPM) has reported that investment growth during the past four years has shown a positive trend.
Investment realization during the period of 2015-2018 reached Rp2,572.30 trillion, exceeding the target set by the board's plan of Rp2,558.10 trillion.
"There was indeed a slowdown in investment last year as an impact of the decline in global investment," said Head of BKPM Thomas Lembong at the 2019 National Coordination Meeting, at the Nusantara Hall, Indonesia Convention Exhibition (ICE), South Tanggerang, Tuesday (12/3).
Lembong added that investment realization in 2018 stood at Rp721.3 trillion, rising by 4.1 percent compared to that in 2017. The figure was equal to 94.3 percent of the target set in the National Medium-Term Development Plan (RPJMN) realization which was set at Rp765 trillion.
"The total of Domestic Investments (PMDN) in 2018 reached Rp328.6 trillion, significantly increasing by 25.3 percent compared to that in 2017 at Rp262.3 trillion. In addition, the total of Foreign Investment (PMA) in 2018 stood at Rp392.7 trillion, or decreased by 8.8 percent compared to the previous year which was Rp430.5 trillion," Lembong added.
Investment realization from PMDN and PMA in 2017, he added, reached Rp692.8 trillion, exceeding the target of Rp678.8 trillion. In 2016, the total investment realization reached Rp612.8 trillion, rising by 12.4 percent compared to that in 2015 at Rp545.4 trillion.
For the record, the meeting was attended by 850 stakeholders, including governors, regents, and mayors all around Indonesia, Capital Investment and One-Stop Integrated Services Agency (DPMPTSP) personnel of all provinces, administrators of Special Economic Area (KEK)/ Free Trade and Port Zone Authority (KPBPB), and representatives of ministries/institutions.
The meeting was officially opened by President Joko "Jokowi" Widodo.
On the same occasion, President Jokowi also launched a program called Investment-Utilizing Application Coordination (KOPI MANTAP), which is aimed at facilitating coordination across Task Forces (including National Task Force, Provincial Task Force and Regency/City Task Force) in a bid to affirm commitment in addressing investment-related issues.
KOPI MANTAP is expected to make coordination more effective and efficient by using an information technology platform supported by several features such as collaboration, knowledge sharing, and remote meetings through video/audio conference. (DND/JAY/ES)
Translated by : Rany Anjany Subachrum
Edited by : Muhammad Ersan Pamungkas