Java Toll Road Connecting Semarang will Operate this Eid al-Fitr
By
Office of Assistant to Deputy Cabinet Secretary for State Documents & Translation &nbsp &nbsp
Date
9 Januari 2017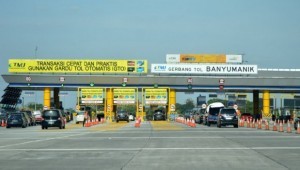 The Government promised that the extended Merak-Jakarta toll road in Ngaliyan, Semarang, would be operated during this year's mudik (an annual exodus ahead of Eid al-Fitr) season.
Last year, the Java toll road was only connected until the East Brebes toll exit.
Minister of Public Works and Public Housing Basuki Hadimuljono said that the three toll roads to be operated this year are Pejangan-Pemalang, Pemalang-Batang, and Batang-Semarang toll roads.
"Ministry of Public Works and Public Housing as well as state-owned toll road operators PT Jasa Marga, PT Waskita, and PT Sumber Mitra Jaya have agreed to maintain their work pace and finish the project on targeted time. Thus, the roads can hopefully ease traffic congestion during this year's mudik," Basuki said after visiting to Pematang-Batang and Batang-Semarang toll roads construction sites in Central Java, on Friday (7/1).
Basuki further said that his visit this time is aimed at ensuring the construction of 650-km-Trans Java toll road connecting Jakarta and Surabaya can be finished in 2018 and that the road to be operated in the 2017 mudik will not only head to Pemalang, but also to Ngaliyan, and Semarang.
Even though the roads operate functionally, it is already covered with concrete.
According to Basuki, construction progress of Pejagan-Pemalang toll road section 3 and 4 to date has reached 57.25 percent, while the land acquisition process has reached 98 percent. The project is estimated to be finished in December 2017 but the roads are expected to be operated in this year's mudik. For the record, the 57.5km-Pejagan-Pemalang toll road consists of 4 sections, with the first and second sections connecting the road to East Brebes having been operating since June 2016.
The Minister also hopes the 39km-Pemalang-Batang toll road, which is estimated to start operating in December 2018 can be operated in this year's mudik. "Part of the total 39 km of Pematang-Batang toll road consists of disadvantaged kind of soil, namely soft soil that requires certain treatment and we have agreed to take vacuum method," Basuki explained.
"By the end of this month, we will check whether the implementation of the vacuum method can be finished or not," Basuki added.
If it can't be finished, we will seek other solution so that the road can still be operated in the 2017 mudik.
The Minister mentioned that construction progress of Pemalang-Batang toll road to date reached 6.63 percent, while the land acquisition process has reached 80.80 percent.  
He added that several locations of Batang-Semarang toll road which the groundbreaking has taken place on April 2016, are drivable. Thus, he said, the road which is expected to be operated on December 2018, can be operated in this year's mudik.
The 75-km-length toll road consists of 5 sections. Its construction progress to date reached 10.95 percent and land acquisition process reached 65.15 percent.
Considering infrastructure aspect, Basuki said that this year's mudik will be better than last year.
The Minister added that in conjunction with the operation of Trans Java toll road to Semarang, there will be more choices of possible traffic engineering because it shall not be focused in East Brebes as happened last year. "Once the Ngaliyan road operates, traffic headed to Purwokerto will be split in Brebes. Thus, there will be more choice of possible traffic engineering," Basuki said.
Accompanying Basuki in the visit were Director General of Bina Marga Arie Setiadi Moerwanto, Director of Road Network Development Rahman Arif, Head of Toll Road Authority (BPJT) Herry Trisaputra Zuna, Head of the National Road Implementing Agency VII Achmad Herry Marzuki, and Head of Public Communication Bureau Endra S. Atmawidjaja. (PKP Kementerian PUPR/ES) (RAS/EP/YM/Naster)