JORR Toll Road Single Tariff to be Applied by End of September 2018
By
Office of Assistant to Deputy Cabinet Secretary for State Documents & Translation &nbsp &nbsp
Date
17 September 2018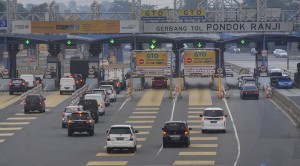 In order to improve services as well as to support national logistics system to be more efficient and competitive, Ministry of Public Works and Public Housing has decided to implement an integrated payment system on Jakarta Outer Ring Road (JORR).
"We continue to disseminate this policy before it takes effect by the end of September 2018," Minister of Public Works and Public Housing Basuki Hadimuljono said as quoted by the Ministry's website on Sunday (16/9).
The Minister said that usually toll road users have to make 2 or 3 transactions when they use the 76 km JORR toll road that consists of 4 sections which managed by different operators. After the integration, the users will only have to make single transaction at the on-ramp gate.
Hence, the tariff is calculated from the average toll road rate multiplied by the average use of the toll road. The long-distance toll road users will be benefited from changes in rates compared to short-distance users.
Integrated payment system will be applied starting from W1 Section (SS Penjaringan-Kebon Jeruk), North W2 Section (Kebon Jeruk-Ulujami), South W2 Section (Ulujami-Pondok Pinang), S Section (Pondok Pinang-Taman Mini), E1 Section ( Taman Mini-Cikunir), E2 Section (Cikunir-Cakung), E3 Section (Cakung-Rorotan), Tanjung Priok Access Toll Road (Rorotan-Kebon Bawang), and Ulujami-Pondok Aren Toll Road.
"After the integration, the JORR users will be charged with a single tariff, that is Rp15,000 for class I vehicles, whereas class 2 and 3 vehicles will be charged with the same tariff of Rp22,500, and class 4 and 5 also pay the same tariff of Rp30,000," Basuki said.
Currently, class I vehicles from Penjaringan Interchange to Tanjung Priok Port Access Toll Road have to pay Rp34,000 while class V vehicles pay Rp94,500. With the integration, according to the Minister, class I tariff will down to Rp19,000 and class V tariff will down to Rp64,500.
The users of Ulujami-Pondok Aren section who enter the toll road from Bintaro Viaduct to Bintaro still pay the old tariff of Rp3,000 for class I vehicles, while the users of Ulujami-Pondok Aren section heading to Ulujami is charged with new tariff of Rp15,000.
For the record, the integration of JORR transaction was planned to be applied on 20 June 2018 but taking into account a number of inputs from various elements of the community, a delay is made to be able to conduct a more intensive dissemination to the community. (BKP Kementerian PUPR/ES) (GWH/MMB/Naster)