Land, Forest Fires Caused by Humans, BNPB Head Says
By
Office of Assistant to Deputy Cabinet Secretary for State Documents & Translation &nbsp &nbsp
Date
24 September 2019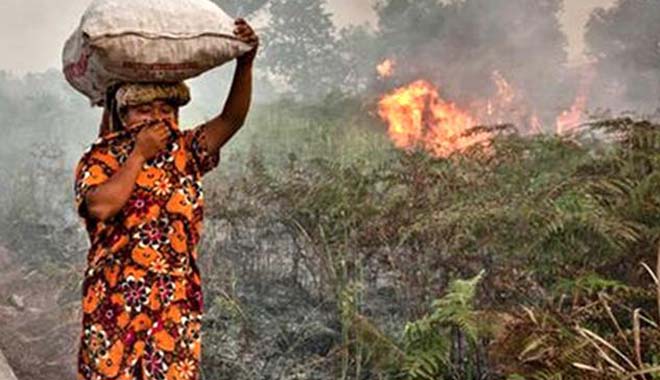 Head of the National Disaster Mitigation Agency (BNPB) Doni Monardo on Monday (23/9) has said that out of 328,724 hectares of land and forest fires in 2019, 99 percent are caused by humans.
"80 percent of the scorched land eventually converted into plantations," Doni said in his remarks at Coordination Meeting on the handling of Land and Forest Fires in Jambi Province.
According to him, forest and land fires this year are different from the previous year which was easy to be extinguished since the peatlands were in wet condition. "This year, 328,000 hectares of dry peatland are burned," he said.
Since the fires burned quite vast areas, Doni continued, synergy between various agencies are needed to put out the fires. "There's no need to blame each other," he further said.
"In the future, local governments must involve the community as part of the effort to prevent land and forest fires," he said, adding that the Central Government is ready to assist and support their work to extinguish the fires.
He went on to say that people should no longer deliberately set fires to clear land for agriculture use. He reminded that it needs a special permit to do that. "It is dangerous to clear land in dry peatland areas because fire will spread immediately," Doni said.
In the meantime, Jambi Governor Fahrori Umar has stated that the regional government has anticipated the haze disaster by holding a coordination meeting, briefing on handling of forest and land fires, dissemination, monitoring and inspection, as well as conducting fire extinguishing through land and air.
Furthermore, he also said that currently the regional government plans to improve supervision and hold discussions on land and forest, as well as to build canals involving business entities. "Hopefully, in the upcoming years, land and forest fires no longer happen," he added. (Pusat Data Informasi dan Humas BNPB/ES)
Translated by: Galuh Wicaksono
Edited by: Mia Medyana