Low Domestic Airfare Available Three Days a Week
By
Office of Assistant to Deputy Cabinet Secretary for State Documents & Translation &nbsp &nbsp
Date
1 Juli 2019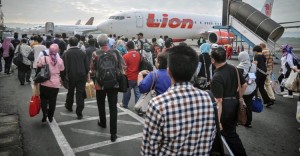 The Government and related stakeholders have decided to provide low-cost domestic flights on Tuesdays, Thursdays and Saturdays at 10.00 to 14.00 (local time on each airport).
"The tickets are 50% off from the price ceiling for airline tickets," Secretary to Coordinating Minister for the Economy Susiwijono told reporters after the Ministerial Coordination Meeting on Policy Evaluation for Lowering Airfare held at the office of Coordinating Ministry for the Economy, Jakarta, Monday (1/7).
The low-cost flights, according to Susiwijono, will be jointly subsidized by the airlines, airport managers, fuel providers and state-owned air navigation firm AirNav.
"We are committed to providing low-cost flights to the public. Regarding the flight schedule and sharing costs, we will discuss these issues in the upcoming meeting," he explained.
In line with Susiwijono, Deputy of Financial Services, Survey Services and Consultants of Ministry of State-Owned Enterprises (BUMN) Gatot Trihargo stressed that sharing costs will not sacrifice the safety of AirNav, airlines, and airport managers.
Susiwijono added that since the decision to lower the airfare was taken on the Coordination Meeting on 20 June 2019, the average Lion Air's airfare rates of the price ceiling, for example, has declined from 54.2% to 42.7%, or 11% lower.
With Lion Air's airfare which has reached 42.7% and Air Asia which has reached 38.3% of the price ceiling, it means that the price of economy class of low-cost airlines that serve domestic flights in Indonesia has dropped below 50% from the price ceiling.
For the record, the soaring airline fares that happened since November 2018 does affect the number of domestic air transport passengers. The number of domestic air transport passengers from January to May 2019 was recorded at 29.4 million people, or dropped 21.33 percent compared to that of the same period last year of 37.4 million people.
"The largest number of passengers recorded in Soekarno Hatta Airport-Jakarta that reached 7.2 million people or 24.50 percent of the total domestic passengers, followed by Juanda Airport-Surabaya that reached 2.3 million people or 7.94 percent," Susiwijono explained. (PR of Coordinating Ministry for the Economy/ES)
Translated by: Estu Widyamurti
Edited by: Mia Medyana