Manpower Minister Tells Workers to Avoid Intercity Travel during Upcoming Holidays
By
Office of Assistant to Deputy Cabinet Secretary for State Documents & Translation &nbsp &nbsp
Date
10 Maret 2021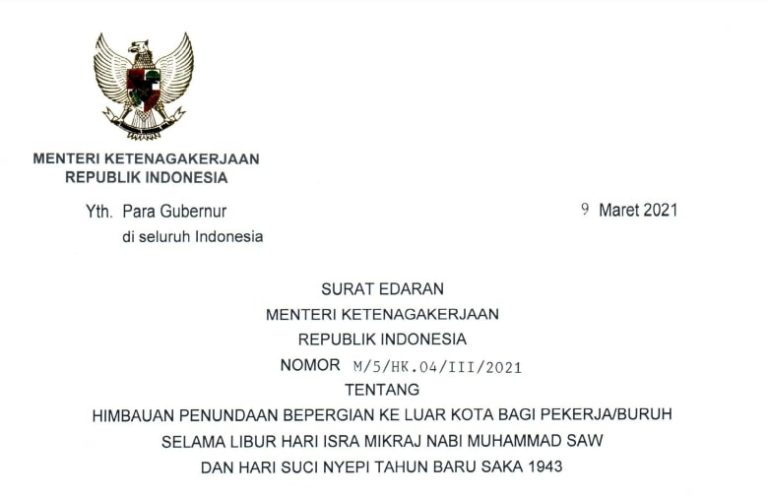 In a bid to support the implementation of public activity restrictions (PPKM), Minister of Manpower Ida Fauziyah has urged workers to avoid intercity travel during the upcoming holidays.
The Minister on 9 March 2021 issued Circular of Minister of Manpower Number M/5/HK.04/III/2021 on the Appeal to Workers to Postpone Intercity Travel during Holidays of IsraʾMiʿraj (Ascension Day of Prophet Muhammad) and Nyepi (Day of Silence).
"We urge workers and their families to avoid intercity travel during the holiday period of Israʾ Miʿraj and Nyepi, from 10 March to 14 March 2021," Ida said, quoting the first point of the Circular.
The second point of the Circular states that if the workers cannot avoid intercity travel, they are obliged to follow strict health protocols, including using a face mask properly during outdoor activities, washing hands with soap and running water; maintaining physical distancing; avoiding crowds; and limiting mobility and interaction.
In addition to health protocols, workers who travel to another city during the holiday period are urged to pay attention to the risk zoning of COVID-19 set by the COVID-19 Task Force, as well as regulations and/or policies of regional governments regarding entry and exit restrictions.
The Circular also stipulates that workers must comply with the travel criteria, requirements and protocols set by Ministry of Transportation, the COVID-19 Handling Task Force, as well as the health protocols stipulated by Ministry of Health.
In the Circular, the Minister also asked Governors to follow up and disseminate the Circular to Regents/Mayors and related stakeholders. (PR of Ministry of Manpower/UN) (RI/MUR)