Minister Bans Intercity Travel for State Apparatus during Lunar New Year Holiday
By
Office of Assistant to Deputy Cabinet Secretary for State Documents & Translation &nbsp &nbsp
Date
10 Februari 2021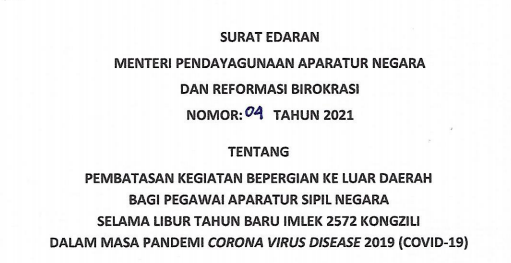 Ahead of Lunar New Year holiday on 12 February 2021, the Government prohibits state civil apparatus from traveling out of town and encourages them to always adhere to strict health protocols amid concerns over a potential spike in COVID-19 transmission.
The measures are taken to prevent significant increase in COVID-19 cases in Indonesia since long weekends usually entail high mobility that potentially triggers the (COVID-19) transmission, as happened after year-end holiday.
The restriction, which is based on Circular of Minister of State Apparatus Empowerment and Bureaucratic Reforms Number 4 of 2021, to take effect from 11 to 14 February 2020. In case of urgency that requires a state civil apparatus to travel to other regions, he/she is obliged to obtain written permit from the Personnel Supervisor Officers (PPK).
Upon receiving the permit to travel, he/she must take into account the following points:
Zoning map of COVID-19 transmission risk stipulated by the COVID-19 National Working Committee.
Regulations/policies on people's mobility applied in regions of origin and destination.
Conditions, criteria, and protocols for traveling set by Minister of Transportation and the COVID-19 National Working Committee.
Adhere to the health protocols imposed by Ministry of Health.
Under the Circular, state civil apparatus are obliged to maintain healthy lifestyle to prevent the spread of COVID-19 and to maintain discipline in following the health protocols such as wearing face mask, frequently washing hands, maintaining safe distance, avoiding crowds, as well as limiting mobility and interaction.
Minister of State Apparatus Empowerment and Bureaucratic Reforms Tjahjo Kumolo also called on all state civil apparatus to become role model of healthy lifestyle and discipline in adhering to the health protocols for others.
Based on the Circular, Personnel Supervisor Officers in ministries/institutions and regional governments will impose disciplinary sanctions to state civil apparatus violating the protocols in accordance with the provisions of Government Regulation Number 53 of 2010 on State Civil Apparatus' Discipline and Government Regulation Number 49 of 2018 on Management of Contract-based Government Employees (PPPK).
In order to ensure that the provisions of the Circular are well-implemented by all state civil apparatus, the Personnel Supervisor Officers are ordered to send an implementation report to Minister of State Apparatus Empowerment and Bureaucratic Reforms through email persuratan@menpan.go.id no later than 16 February 2021. (MINISTER OF STATE APPARATUS EMPOWERMENT AND BUREAUCRATIC REFORMS PR/UN) (RAS/MMB)