Minister Lifts Ban on International Travel Restrictions for ASN
By
Office of Assistant to Deputy Cabinet Secretary for State Documents & Translation &nbsp &nbsp
Date
21 Maret 2022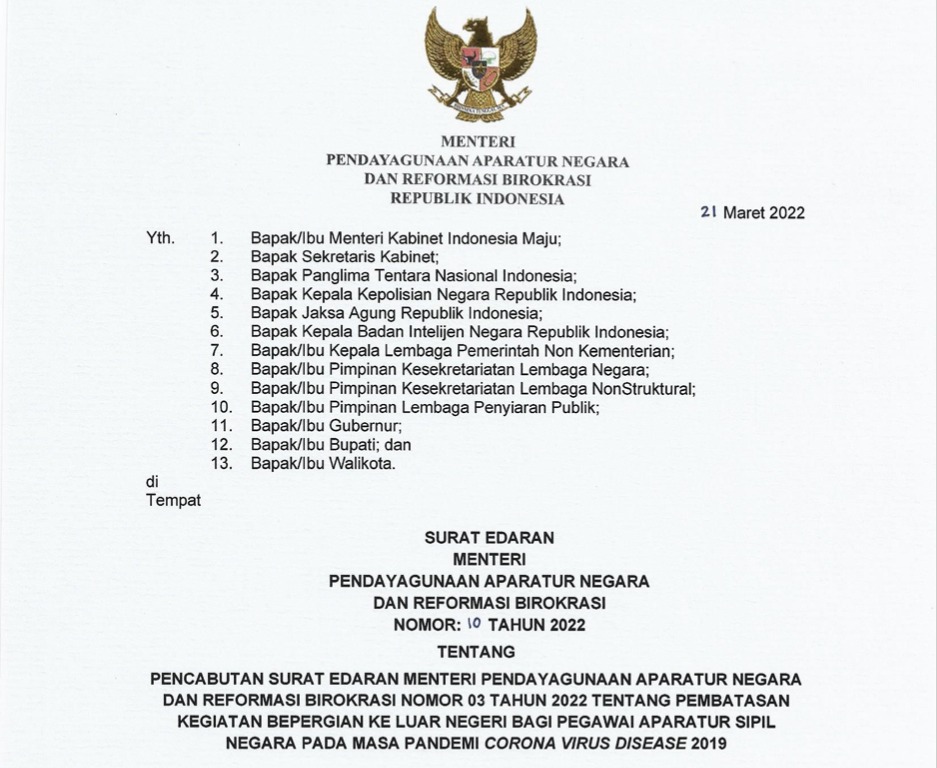 Ministry of State Apparatus Empowerment and Bureaucratic Reforms (PAN RB) Tjahjo Kumolo has lifted the ban on international travel restrictions for State Civil Apparatus (ASN).
The ban is contained in Circular of Minister of PAN RB Number 3 of 2022 on International Travel Restrictions for State Civil Apparatus (ASN) amid the COVID-19 Pandemic and lifted through the issuance of Circular Number 10 of 2022 which was signed on March 21, 2022.
"This Circular shall come into force from the date of its stipulation and with the enactment of this Circular, the Circular Number 3 of 2022 is revoked and declared invalid," the Circular reads.
Although the ban has been lifted, the Minister underscored that ASN is still required to follow applicable regulations if they wish to travel abroad. The Circular mentions that the related ASN must first obtain written permission from a Personnel Supervisor Officer (PPK) or an official who is given delegation of authority in the field of personnel within their respective institutions.
In addition to obtaining a permit, ASN who will travel abroad must also comply with the following provisions:
International travel protocols amid the COVID-19 pandemic set by the COVID-19 Task Force;
Implementing guidelines for international travel amid the COVID-19 pandemic set by Ministry of Transportation;
Policies on the territory of the country to be visited;
Policies on entry points, quarantine places, and mandatory COVID-19 inspections set by the COVID-19 Task Force; and
Strict health protocols.
Official travel abroad must also be carried out selectively and priority should also be given to essential activities that cannot be delegated. In addition, also do pay attention to the policies of Ministry of State Secretariat.
The revocation of Circular Number 3 of 2022 is intended as an adjustment to international travel restrictions. This was done with considerations on the development of COVID-19 spread, the evaluation results on the policy for the Implementation of Public Activity Restrictions (PPKM), and Circular of the Head of COVID-19 Task Force Number 12 of 2022 on Health Protocols for International Travel amid the COVID-19 Pandemic.
With the lift on the ban, ASN must still observe strict health protocols. Thus, it is expected that it will continue to prevent an increase in COVID-19 spread in the country. (PR of Ministry of State Apparatus Empowerment and Bureaucratic Reforms/UN) (FI/LW)