Minister Orders Gov't Agencies to Utilize PeduliLindungi Application
By
Office of Assistant to Deputy Cabinet Secretary for State Documents & Translation &nbsp &nbsp
Date
8 September 2021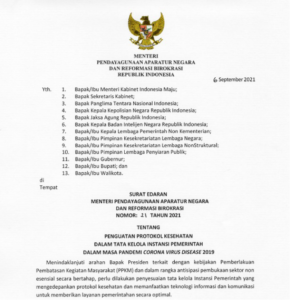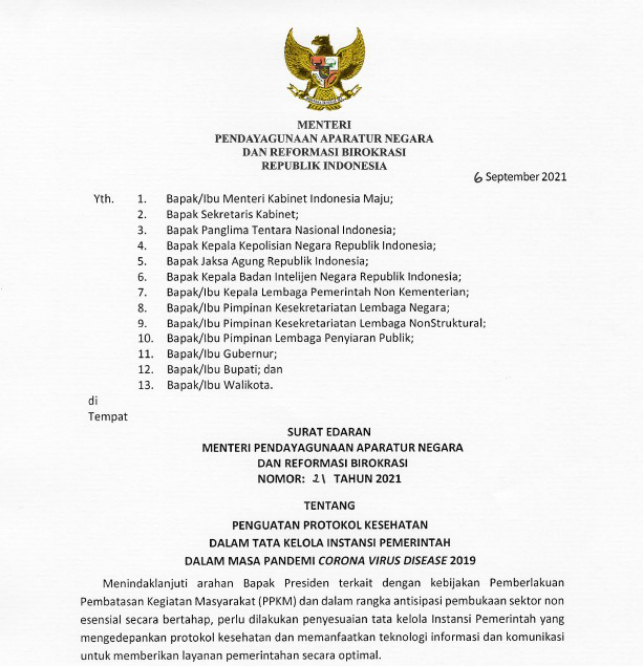 In a bid to tackle the COVID-19 pandemic, Minister of State Apparatus Empowerment and Bureaucratic Reform (PANRB) Tjahjo Kumolo has issued Circular Number 21 of 2021 on Intensification of Health Protocols in Governance of Government Offices During the Coronavirus Disease 2019 Pandemic, signed on Monday (06/09).
Through the Circular, Tjahjo urged government agencies to strengthen health protocols in their office environment by utilizing information and communication technology integrated with contact-tracing PeduliLindungi application.
It is stressed in the Circular that personnel supervisors (PPKs) in government agencies are ordered to use PeduliLindungi platform to screen all employees and visitors entering their office environment.
The PPKs are also ordered to use QR code integrated with PeduliLindungi application to check and monitor the number of employees and visitors in their office. The QR code is obtained in accordance with the regulation issued by Ministry of Health.
Furthermore, government agencies are ordered to strengthen the role of COVID-19 crisis centers. As for the working system of state civil apparatus, work from home and work from office schedule is arranged in accordance with Circular of Minister of PANRB Number 58 of 2020 on State Civil Apparatus Working System During the New Normal and Circular of Minister of PANRB Number 19 of 2021 on State Civil Apparatus Working System Adjustment During Public Activity Restrictions (PPKM) in the Coronavirus Disease Pandemic 2019.
Under the Circular, Tjahjo also urged that business trips during the implementation of PPKM are selectively carried out with accountability and full of vigilance following the urgency.
"[Employees on business trips must] obtain letter of assignment signed by at least a high-ranking official (echelon II) or head of their work unit," he said.
State civil apparatus must also pay attention to travel policies during PPKM by making adjustments to the PPKM level criteria in their areas of origin and/or destination. In addition, state civil apparatus on business trips must observe travel protocols stipulated by the COVID-19 Task Force and Ministry of Transportation as well as observe health protocols stipulated by Minister of Health.
Minister of PANRB also urged that all meetings and activities are carried out online by utilizing information and communication technology. However, if meetings and activities must be carried out in person, the participants must maintain a safe distance, observe strict health protocols, and undergo a screening synchronized with PeduliLindungi platform conducted by the organizing agency. (PR of Ministry of PANRB/UN) (DH/MUR)
The official website of Ministry of PANRB can be accessed through this link.