Minister Reveals Main Points of Macroeconomic Projection, 2021 Fiscal Policy Draft
By
Office of Assistant to Deputy Cabinet Secretary for State Documents & Translation &nbsp &nbsp
Date
15 April 2020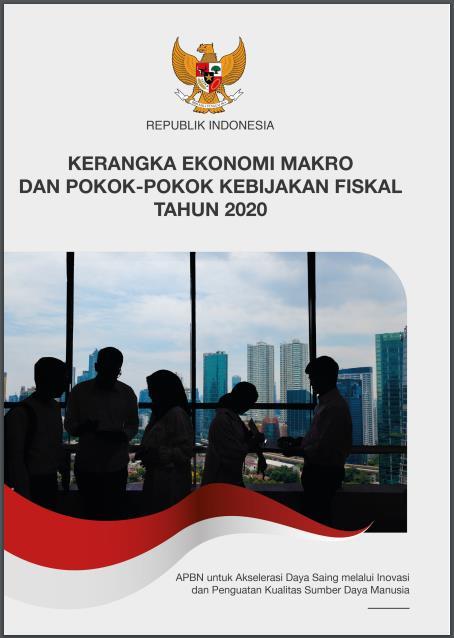 President Joko "Jokowi" Widodo called for a fundamental reforms during the crisis as the impact of COVID-19, Minister of Finance Sri Mulyani has said.
"Therefore, we would take several measures in macroeconomic projection and 2021 fiscal policy draft (KEM PPKF) to improve economic fundamental and undertake reform based on the President's directives," the Minister said after a Plenary Cabinet Meeting on Tuesday (14/4).
According to the Minister, there are several priorities such as development of human resources for productivity and innovation, reforms in regulation and bureaucracy, infrastructure development for medium and long terms to boost Indonesia's competitiveness, and economic development.
"We are still focusing on those points amid the COVID-19 pandemic. In fact, it should be a momentum to improve the governance, bureaucracy, regulation, as well as to transform the economy, and increase the quality of human resources," she added.
Fiscal policy in 2021 will be focused on recovering social economic condition and strengthening reforms so that Indonesia can escape from middle income trap.
Pin points of recovery and reform measures in 2021 are:
First, to reform systems and implementation of healthcare services in order to strengthen health system and security.
Second, to reform social security program, as well as to strengthen and improve the system.
Third, to reform education sector, and promote the use of technology.
"During the pandemic, we use communication technology to work that increase our dependency on information and communication technology," she said.
Fourth, to reform synergy between central and regional governments in implementing transfer to region and Village Funds programs since one third of state expenditure is allocated for both programs.
Fifth, to reform state revenue.
"The five points will be input in the KEM PPKF 2021 which will be submitted to the House of Representatives as an outlook projection of 2021," she added.
The Minister went on to say that economic growth is projected to lie in the range of 4.5 to 5.5 percent, with inflation at 2 to 4 percent. As mandated in the government regulation in lieu of law, deficit rate for three consecutive years, 2020, 2021, and 2022 can cross the three-percent level.
"This year, the deficit can be maintained at 5 percent or lower if we are careful. As for next year, the deficit is projected to reach 3 to 4 percent," she explained adding that next year the state budget will be focused to fund priority programs, such as economic recovery, and several reforms including on health, education, social assistance sectors, as well as on economic transformation.
On that occasion, the Minister also said that budget allocated for ministries/institutions next year is amounted to Rp937.2 trillion. Programs in the state budget will be curbed from 400 to only 89 programs so that the it will be focused to fund national priority programs.
"In 2021, personnel expenditure, goods expenditure, capital expenditure, social assistance expenditure will be reviewed so we can achieve budget efficiency as that of which imposed on 2020 budget due to the impact of COVID-19 pandemic," she said.
During the pandemic, the Government has cut budget posts for less important matters such as official trips, meetings, and other spending.
"It means we can impose the same measure to budget 2021 and maintain the efficiency that we have done to 2020 budget," she concluded.  (TGH/FID/EN)
Translated by : Rany Anjany S
Reviewed by: Lulu Wuliarti