Ministry Raises Alert Against Zika Virus Entering Indonesia
By
Office of Assistant to Deputy Cabinet Secretary for State Documents & Translation &nbsp &nbsp
Date
31 Agustus 2016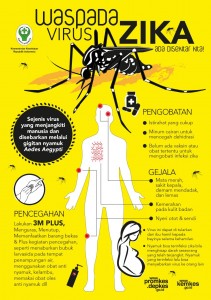 Following the outbreak of Zika in Singapore, Indonesian Ministry of Health has raised alert towards the possibility of the virus reaching Indonesia, considering Singapore's geographical proximity with Indonesia, especially with the Island of Batam.
In addition, there is also a high mobility of people between Singapore and Batam.
"To increase awareness to all health officials and to the people, I have given instructions to all Port Health Offices in all entry points in Indonesia to conduct a more thorough surveillance and monitoring," said Director General of Disease Control and Prevention of the Health Ministry dr. H. MohamadSubuh in Jakarta recently.
According to Subuh, to prevent and to detect the spread of Zika, every passenger entering Indonesia through Singapore will also be given a health alertcard when they enter Indonesia through airports.
"The card is simple. There is a warning that provides information, for example,if within 10 days you have a high fever and rashes, you have to immediately check yourself to a health facility such as community health centers (Puskesmas) or hospitals by bringing the card," Subuh said.
By distributing the card, Subuh believes, monitoring passengers who are allegedly infected by the virus will be more effective in addition to through body screening and thermal scanner.
He went on to say that the use of thermal scanner itself will be more optimal if it is applied to those who are infected and have entered the incubation stage of the virus, which is 7-10 days.
Subuh also hopes that people will take part to help the Government by reporting should they have symptoms of Zika because the measures to prevent and control diseases cannot be done by the Government only but also needs public participation. (RMI/Biro HumasKemenkes/ES)(EP/YM/Naster)