Mt. Tangkuban Perahu Erupts But Still in Normal Status
By
Office of Assistant to Deputy Cabinet Secretary for State Documents & Translation &nbsp &nbsp
Date
26 Juli 2019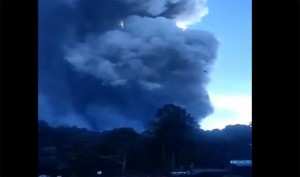 Mount Tangkuban Parahu in Bandung, West Java, erupted at 3:48 p.m. on Friday (26/7).
Following the eruption, the authorities prohibited tourists from approaching the area. The Center for Volcanology and Geological Hazard Mitigation (PVMBG) reported that the volcanic ash soared 200 meters up from the peak of the mountain, which is about 2,284 m above sea level. However, despite the eruption PVMBG announced that the mountain is still in Level I (Normal) Status.
For the record, the crater of the mountain is a popular tourist spot.
Head of PVMBG Kasbani said the grey thick volcanic ash spread to the south and north east.
"The eruption was recorded on the seismogram to have a maximum amplitude of 38 millimeters with a duration of about five minutes and 30 seconds," he said.
PVMBG has also warned tourists not to approach the crater, following an increase in volcanic activities. Tourists were also prohibited from spending the night in the Mount Tangkuban Parahu tourism complex. It also warned locals, traders and employees of the Mount Tangkuban Parahu tourism complex to stay alert for any possible increase in volcanic activities. "A phreatic eruption might happen any time without any clear volcanic signals," Kasbani said. (ES)
Translated by: Estu Widyamurti
Edited by: M. Ersan Pamungkas