National Batik Export Dominates Global Market
By
Office of Assistant to Deputy Cabinet Secretary for State Documents & Translation &nbsp &nbsp
Date
16 Mei 2018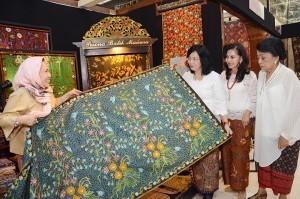 Indonesian batik industry is considered to have dominated global market so it can be a driving force for the national economy. This can be seen from the export value of batik and batik products in 2017 that reached US$ 58.46 million with major export destinations including Japan, USA and Europe.
"National batik industry has comparative and competitive aspects in international market. Indonesia is also a market leader that controls global batik market," said the Ministry of Industry's Director General for Small and Medium Enterprises (SMEs), Gati Wibawaningsih, in Jakarta, on Thursday (17/5).
Trade value of apparel products currently reaches US$ 442 billion. Gati said this could be a great opportunity for national batik industry to increase its market share, considering it is one of raw materials for apparel products.
"Our batik industry is dominated by SMEs spreading in 101 centers across the country with total employment absorption reaches 15 thousand workforces," Gati said while adding that the potential of batik industry continues to be developed in line with the Government's efforts to encourage export-oriented labor-intensive industry.
For the record, in order to boost productivity as well as competitiveness of national batik industry, the Ministry of Industry has implemented several strategic programs, such as to improve workers' competencies and to develop quality of the products.
In addition to that, the Ministry also applies standardization in batik industry, provides the machinery and production equipments, as well as organizes promotion and exhibitions both in Indonesia and abroad.
"One of the activities is to hold the XII Batik Cultural Exhibition at Industry Exhibition Plaza, collaborating with Indonesian Batik Foundation (YBI)," Gati said.
This exhibition aims to promote the superior works of batik craftsmen in the country, as well as to expand their market which is dominated by small and medium enterprises.
This year's exhibition, adopting a theme "Cerah Ceria Pesona Batik Madura" (Bright and Cheer the Charm of Batik Madura), will be held for four days starting from 15 to 18 May 2018 with a total of 48 participants.
Some of participants exhibit their products that use natural dyes reflecting their effort to produce environmentally friendly products and have high added value.
"Development of natural dyes also reduces the need to import synthetic dyes," Gati said.
In the midst of more competitive and dynamic global competition, the Director General said, the consumers' preferences for environmentally friendly products continue to increase and it is expected to increase market opportunities.
In the meantime, Minister of Industry Airlangga Hartarto said that the Ministry continues to encourage the craftsmen and national batik industry to keep innovating in order to create various natural colors. This is being carried out as an effort to explore the potential of Indonesian batik with natural colors.
"Besides that, we have an e-Smart program for Small and Medium Enterprises that aims to encourage business entities to enter online marketing," Airlangga said while adding that this program will act as one of strategic measures towards the implementation of industrial revolution 4.0. (EN/Biro Humas Kemenperin/ES) (GWH/MMB/Naster)