National MTQ to be Held on October 2018
By
Office of Assistant to Deputy Cabinet Secretary for State Documents & Translation &nbsp &nbsp
Date
28 September 2018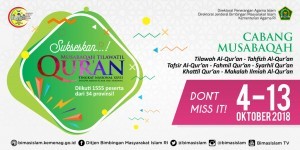 The National Musabaqah Tilawatil Quran (Quran Recital Competition/MTQN) will be held on 4 to 13 October 2018 and this biennial event will take place in Medan and Deli Serdang, North Sumatra Province.
Director General for Islamic Guidance of Ministry of Religious Affairs Muhammadiyah Amin said that this year's MTQN will mark a new era of MTQN competition because there will be some innovations on the event. "This year's event will be a new MTQN," Amin said in his press release on Friday (28/9).
Director for Information on Islam of Ministry of Religious Affairs Khoiruddin said that those innovations will be implemented in order to improve the quality of the MTQN. "There are five innovations in this year's MTQN," Khoiruddin said.
First, the Ministry will issue a Regulation of Minister of Religious Affairs (PMA) on MTQ and STQ (Quran Recital Selection). According to Khoiruddin, the PMA is a new regulation in the history the organization of MTQN. The PMA regulates a number of aspects, especially on the recruitment of the MTQN Board of Judges.
"Members of Board of Judges of Medan MTQN, for example, are appointed by a recruitment team by taking into account their integrity and skills as well as experience in the types of competition. The recruitment team will also draw up a Code of Ethics for the Board of Judges in order to maintain honor, dignity and ethics as well as behavior of the judges," Khoiruddin said.
The PMA also regulates the tasks and functions of the Board of Supervisors and will also serve as a legal umbrella in the implementation of various MTQs, such as MTQs for Students, MTQs for Journalists, and so on.
The second innovation is the usage of fingerprint machine. Starting this year, the participants must enroll their fingerprints to the machine. The participants will perform fingerprint scan on re-registration phase and before they appear at the competition so it will be more accountable.
The use of e-Maqra software on the event is the third innovation. The software acts as a tool to randomize questions and reading materials (maqra) and make the competition more transparent and accurate. "With e-Maqra, all of us can see the participants' choice of questions and reading materials," he explained.
The fourth innovation in the event is the use of Musabaqah software. The functions of this assessment tool are to automatically check and correct the Board of Judges' score interval as well as display the order of participants' scores according to the rules of the assessment field. This software is also equipped with fingerprint checker for the participants.
The fifth innovation is to provide public services during the MTQN event. The Ministry will provide marriage consultation, zakat and waqf (Islamic endowment) corner, as well as Qur'anic illiteracy eradication corner.
Khoiruddin expressed his hope that these new innovations in the 27th MTQN in North Sumatra will improve the quality of the event. Thus, in addition to the spread of Islam, MTQN can also be a medium for increasing public understanding of the Holy Qur'an. (Humas Kemenag/ES) (GWH/MMB/Naster)