Nation's Solidarity, Unity Must be Maintained, President Jokowi Says
By
Office of Assistant to Deputy Cabinet Secretary for State Documents & Translation &nbsp &nbsp
Date
1 Agustus 2023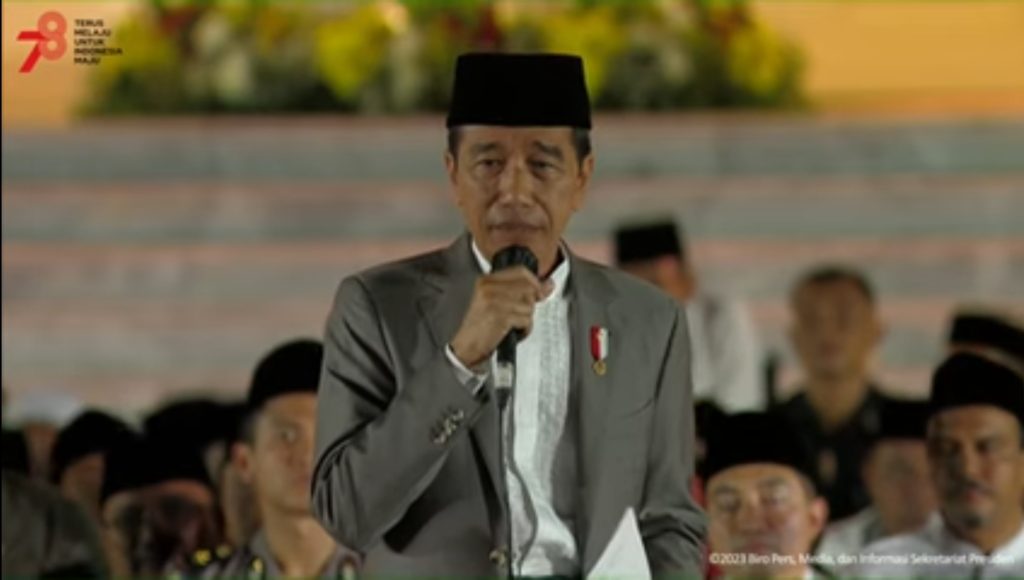 President Joko "Jokowi" Widodo Tuesday (08/01) attended the National Zikr and Prayer for the 78th Anniversary of Indonesia's Independence Day at the front yard of Merdeka Palace, Jakarta.
On that occasion, the President called on all components of the nation to maintain the nation's solidarity and unity.
"Let us maintain our solidarity, our tolerance, mutual respect, as well as mutual aid among each other so that this nation will become a nation [whose people] are united, an advanced nation, and become a nation that has a good land as well as blessed by God (baldatun thayyibatun wa rabbun ghafur) )," he said.
President Jokowi went on to say that the harmony and spirit of mutual cooperation among the people are the factors that make the country successful in facing various challenges, one of which is the COVID-19 pandemic.
"Of course, we will not succeed without our resilience, patience, and reliance on God in facing the challenges. And the mainstay of all of it is our trust in Allah (God the Almighty). Let us make efforts (ikhtiyar), be reliant on God (tawakkul-trusting God's plan)," he added.
The Head of State also expressed his gratitude to all religious leaders who have guided the younger generation to keep believing in God.
"I would like to express my gratitude to all religious scholars (kyai), ulemas, religious leaders, regional leaders, our teachers, our parents, and all components of the nation who have continuously introduced, taught, and guide our children, our younger generation to keep believing in God," he said.
President Jokowi underscored that the Government will continue realizing a good, tolerant, valuable religious life in the country as mandated in the 1945 Constitution.
Furthermore, the President called on all Indonesian to remain optimistic in realizing Indonesia Emas (Golden Indonesia) 2045 vision.
Let us fill this independence with hard work and optimism to realize the Golden Indonesia [vision] in 2045," he remarked. (FID/UN) (AP/MMB)