New ASEAN Secretariat Building to be Completed in March
By
Office of Assistant to Deputy Cabinet Secretary for State Documents & Translation &nbsp &nbsp
Date
8 Januari 2019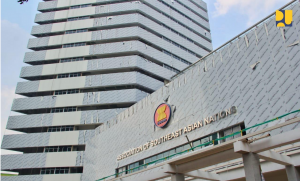 Construction progress of the new building of Association of Southeast Asian Nations (ASEAN) Secretariat located at Jalan Trunojoyo No.1, Kebayoran Baru, South Jakarta is already 85 percent.
The construction is expected to be finished in March this year.
"The building will hold a Certificate of Building Proper Function (SLF). It is also constructed based on a environmentally friendly design by following Platinum Green Building Standard from Green Building Council Indonesia (GBCI)," Minister of Public Works and Public Housing Basuki Hadimuljono said during the visit to the construction site of the building on Monday (7/1).
The new ASEAN Secretariat is built in an area of 49,993 meter square while the size of the building itself is  11,369 meter square. The ASEAN Secretariat compound has 2 towers, each of them has 16 floors equipped with 2 basements and a 5-storey floors podium. It is also constructed to be resistant to earthquake.
To connect two towers, there is a sky bridge spanning 40.5 meters. The sky bridge is recorded as the longest suspension bridge in Indonesia and has received an award from the MURI (Indonesian Records Museum).
The groundbreaking ceremony of the building, whose construction uses Rp448.77 billion from the State Budget for Fiscal Year 2017-2018, was done in January 2018.
In the meantime, Minister of Foreign Affairs Retno Marsudi said that work optimization in completing the construction of the building must be supported with quality of work to create a building with a high quality.
"In our efforts to meet the deadline, we cannot ignore quality because it will affect safety aspect of the building," she said. (BKP Kementerian PUPR/ES)
Translated by : Rany Anjany Subachrum
Edited by : M. Ersan Pamungkas