Nusantara Satu Satellite to Provide Internet Access to Indonesian Archipelago
By
Office of Assistant to Deputy Cabinet Secretary for State Documents & Translation &nbsp &nbsp
Date
24 Februari 2019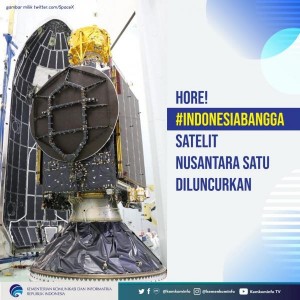 Telecommunications company PT Pasifik Satelit Nusantara (PSN) on Friday (22/2) at around 8:45 a.m. Western Indonesian Time (WIB) launched the Nusantara Satu Satellite from Cape Caneveral Air Force Station, Florida, United States.
"Right at 8.45 a.m. WIB yesterday, the SpaceX Falcon 9 rocket took off from Cape Canaveral Florida, United States, bringing Indonesia's Nusantara One Satellite to Earth orbit. The internet service from this Satellite will reach the entire Indonesian archipelago," President Jokowi said in his twitter account @jokowi, Saturday (23/2).

Managing Director of PT. Pasifik Satelit Nusantara Adi Rahman Adiwoso said that the Satellite will start operating in April 2019 to provide fast internet communication network in the country.
"The need for internet or broadband is very high; we estimate that there are 25,000 villages that do not have adequate internet communication connections. So, our target is to help them,"Adi said before the Satellite launching.
For the record, Nusantara Satu is the first Indonesian Satellite to use High-Throughput Satellite (HTS) with capacity up to 15 Gbps. This technology will provide broadband internet services with significantly greater capacity than those of current Indonesian conventional Satellites.
The Satellite has a capacity of 26 C-band transponders and 12 Extended C-band transponders. In addition, there are also 8 Ku-band spot beams with total bandwidth capacity up to 13.6 Gbps. The coverage area of ??this Satellite reaches all regions in the country.
The Nusantara Satu Satellite will be rented by the Telecommunications and Information Accessibility Agency (BAKTI) of the Ministry of Communication and Informatics, in line with BAKTI's goal to provide internet facilities in the areas not covered by fiber optic cables. BAKTI will use the Nusantara Satu Satellite service for the next five years while waiting for the completion of the Government Multifunctional Satellite expected to be completed in 2023.
For The record, at the end of 2018, the BAKTI opened procurement process to provide HTS-based telecommunications Satellite capacity (transponder). PT. Pasifik Satelit Nusantara is one of the winners of the tender. The other companies are PT Indo Pratama Teleglobal, PT. Aplikanusa Lintasarta and Telkom.
Director of BAKTI Anang Latif said that each company will provide 21 Gbps Satellite capacity to support the Internet Access Service program (BAKTI Action) and BTS backhaul service (BAKTI Signal).
"While waiting for the completion of Satria (Satellite Indonesia Raya), which is targeted to be completed in 2023, this cooperation will provide fast internet access for education, health and defense affairs," Anang Latif said during the Signing of Cooperation Agreement on Providing Telecommunication Satellite Capacity at Borobudur Hotel, Jakarta, at the end of January. (Humas Kominfo/ES)
Translated by: Ridwan Ibadurrohman
Edited by: Yuyu Mulyani