On 2021 May Day, Manpower Minister: Opportunity to Bolster Solidarity, Tackle Pandemic
By
Office of Assistant to Deputy Cabinet Secretary for State Documents & Translation &nbsp &nbsp
Date
1 Mei 2021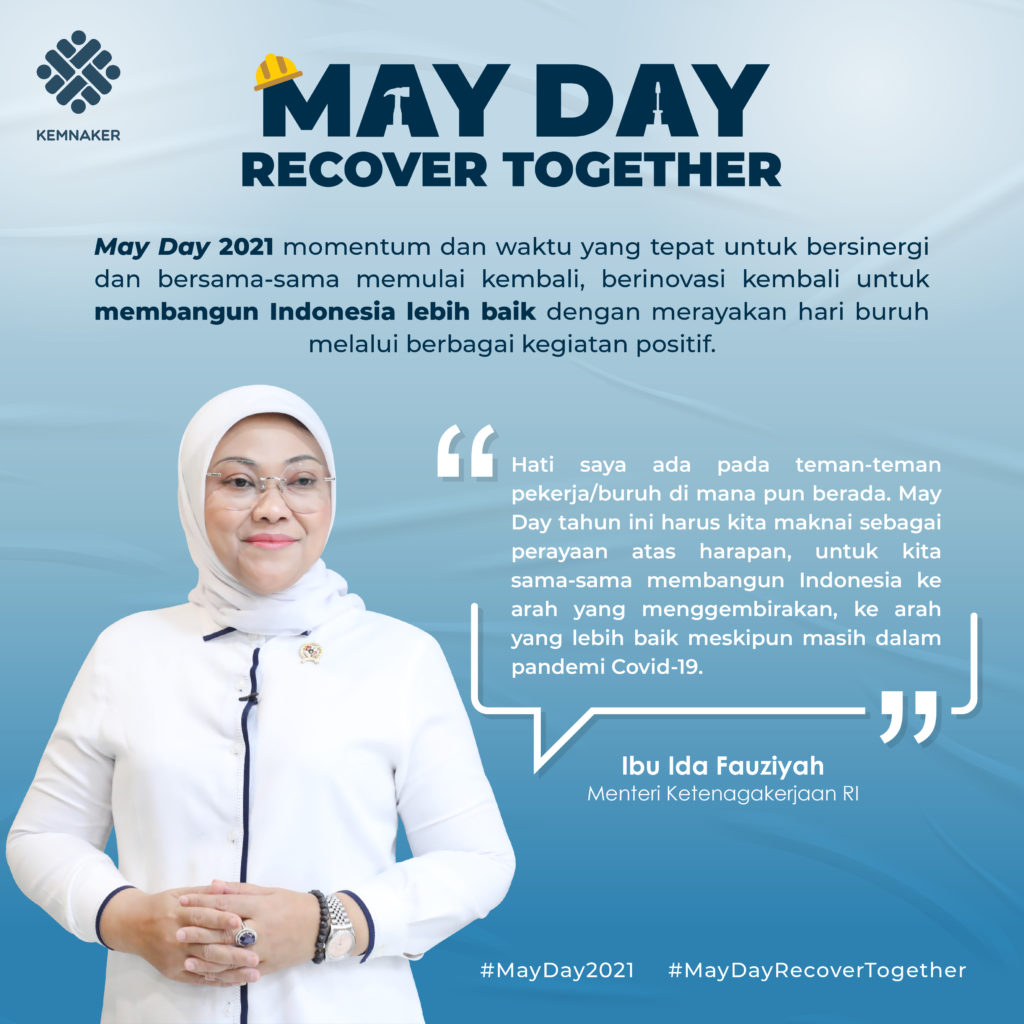 Ministry of Manpower has initiated a campaign for this year's International Labor Day (May Day) with the theme "May Day: Recover Together" to strengthen solidarity and brotherhood as a joint effort to fight COVID-19.
"We should interpret 2021 May Day as a celebration of hope for us to jointly develop Indonesia to become a better country even amid the COVID-19 pandemic," Minister of Manpower Ida Fauziyah said on Saturday (1/5).
Ida said that the pandemic has brought a huge impact, both in terms of health and the national economy. Some companies and industries have managed to survive while many others have collapsed which cause unemployment and increase poverty rates.
To that end, Ida appealed to all parties to maintain optimism as it is very important in dealing with the COVID-19 pandemic.
In addition, she continued, creativity and innovation must also be carried out in all sectors in order to address the challenges so that life can return to normal.
"Indeed, this is a tough task for the Government as well, however this challenge can gradually be overcome if everyone takes concrete actions. We can recover together," said Ida.
Ida went on to say that there were many initiatives taken by Ministry of Manpower to improve the workers' well-being, among others, through the Wage Subsidy Assistance (BSU) for those affected by the COVID-19 pandemic.
In addition, a host of programs have also been, are being, and will continue to be carried out, one of which is training programs.
The training programs include vocational training using blended training method, internship in industry, training to increase productivity for the workers, competency certification, placement of domestic workers, placement of workers who will work overseas, training for new entrepreneurs, business incubation, labor intensive, and the movement of healthy workers.
The next initiative is the policy of granting religious festivity allowance (THR) to workers. Ida expressed hope that this stimulus will drive public consumption, which will have a good impact on company performance.
"We will not stop here. I will continue to encourage other initiatives to be implemented immediately. May Day this year is special because it is a celebration of hope," she remarked. (PR of Ministry of Manpower/AIT/TAR) (EST/MUR)