OPM's Flag Raising in Melbourne is a Purely Criminal Act, President Jokowi Says
By
Office of Assistant to Deputy Cabinet Secretary for State Documents & Translation &nbsp &nbsp
Date
9 Januari 2017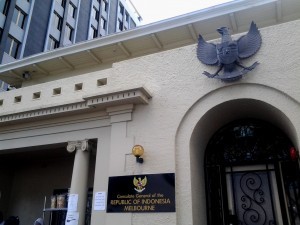 President Joko "Jokowi" Widodo affirmed that the raising of the Free Papua Movements (OPM)'s flag by an individual at the Consulate General of the Republic of Indonesia in Melbourne, Australia on Friday (6/1), was a purely criminal act. "It is Australia's domestic affairs and it was a criminal act. It has nothing to do with the Unitary State of the Republic of Indonesia," President Jokowi said after inspecting the construction of Batang-Semarang toll road on Monday (9/1), in Batang Regency, Central Java.
The President admitted that he has received the report from Minister of Foreign Affairs Retno Marsudi regarding that matter and he asked Australian Government to increase the deployment of security personnel around the consulate's area.
President Jokowi also instructed Retno to call on the Australian Government to take necessary measures in order to prevent the recurrence of similar incidents. "Minister Retno has submitted the request to the Australian counterpart," the President said.
Previously, Retno made a statement that the trespassing case into the Indonesian Consulate in Melbourne is an untolerated criminal act. The Minister urged the Australian authority to immediately conduct an investigation and take legal action against the perpetrator.
Retno mentioned that in accordance with the Vienna Convention 1961, Australia, as a receiver country, has obligation and responsibility to immediately conduct a legal process and ensure the security of all Indonesian missions in Australia.
Retno further said she had talked with Australian Foreign Affairs Minister Julie Bishop on Saturday (7/1) to ensure the Australian Government to conduct investigation and a legal process against the perpetrator. "Indonesian Ambassador to Australia in Canberra continues to communicate with Australian Government and the authority to ensure the security of all Indonesian missions and Diplomatic Consular staffs in Australia," the Minister said as quoted in official website of Indonesian Foreign Affairs Ministry on Saturday (7/1). (EN/ES) (RAS/MMB/YM/Naster)