Over 1.6 Million Foreign Tourist Visit Indonesia in May 2017: BPS
By
Office of Assistant to Deputy Cabinet Secretary for State Documents & Translation &nbsp &nbsp
Date
3 Juli 2017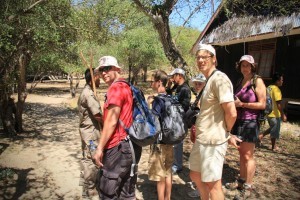 The number of foreign tourist visiting Indonesia in May 2017 reached 1.6 million or grew by 26.6 percent than that in May 2016 which was 951.21 thousand. The figure also showed an increase of 1.49 percent compared to that in April 2017.
Head of National Statistics Agency (BPS) Suhariyanto said that during January to May 2017, the country recorded 5.36 million foreign tourist arrival to Indonesia, a 20.85 percent increase compared to that in the same period in 2016 which was only 4.43 million.
"The increase in the number of foreign tourist in May 2017 is mostly recorded at major tourist entry points in which Sam Ratulangi International Airport in Manado received a 449.02 increase," Suhariyanto told reporters at BPS Office, Jakarta, on Monday (3/7).
Meanwhile, Sepinggan airport in Balikpapan, East Kalimantan recorded the lowest drop of 50.60 percent, Suhariyanto added.
According to Suhariyanto, with the increase of number of foreign tourist, Room Occupancy Rate (TPK) of hotels in May 2017 increased by 0.61 points compared to the rate in May 2016, which was only 55.46 percent. Compared with the rate in April 2017 which was 55.14 percent, the TPK of hotels in May 2017 increased by 0.93 points.
The highest increase is recorded in Special Capital Region of Jakarta, with 7.70 points, followed by Riau Islands Province with 6.88 points, while, the lowest drop is recorded in Jambi Province with 15.57 points," Suhariyanto stated.
The average stay of foreign tourists in the hotels in Indonesia reached 1.99 days in May 2017, while the number increased by 0.24 days compared to the average hotel stay in May 2016.
"If categorized based on province, the longest average length of stay for hotel guest was recorded in Bali Province during May 2017, with 3.18 days, followed by Jakarta with 2.4 days," Suhariyanto said, adding that the shortest average length of stay for hotel guest was recorded in North Kalimantan Province with 1.07 days. (Humas BPS/ES) (RA/EP/YM/Naster)