Over 15.8 Million Foreign Tourists Visit Indonesia in 2018: BPS
By
Office of Assistant to Deputy Cabinet Secretary for State Documents & Translation &nbsp &nbsp
Date
1 Februari 2019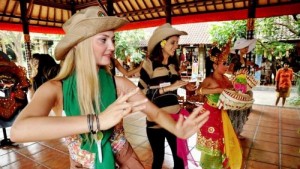 The number of foreign tourists visiting Indonesia in 2018 reached 15.81 million or grew by 12.58 percent compared to the same period in 2017 which stood at 14.04 million.
"The figure consists of 10.08 million of tourist arrivals through air crossing point, 3.22 million arrivals through sea crossing point, and 2.51 million arrivals through land crossing point," Head of National Statistics Agency (BPS) Suhariyanto said during a press statement, at the Agency's Headquarter, Jakarta, on Friday (1/2).
According to Suhariyanto, the number of tourists from Southeast Asian countries increased by 20.60 percent compared to the same period last year and it is recorded as the highest percentage increase. In the meantime, the number of Middle East tourists visiting Indonesia drops significantly to 6.13 percent.
"Based on nationality, Malaysian tourists recorded the highest figures of 2.50 million arrivals (15.83 percent) in 2018, followed by Chinese tourists which stood at 2.14 million arrivals (13.52 percent), Singaporean tourists 1.77 million arrivals (11.19 percent), Timur Leste (East Timor) 1.76 million arrivals (11.15 percent), and Australian tourists 1.30 million arrivals (8.23 percent),"  he concluded. (Head of National Statistics Agency PR Division/ ES)
Translated by : Rany Anjany Subachrum
Edited by : Mia Medyana