Pandaan–Malang Toll Road to be Temporally Free
By
Office of Assistant to Deputy Cabinet Secretary for State Documents & Translation &nbsp &nbsp
Date
13 Mei 2019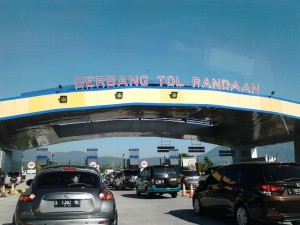 President Joko 'Jokowi' Widodo on Monday (13/5) is slated to inaugurate the operation of Section 1 until Section 3 of Pandaan-Malang toll road in East Java.
"We hope that the construction of Pandaan-Malang toll road as a whole can be completed faster. Starting tomorrow, we will operate sections 1 to 3 of the toll road and once section 4 and 5 are completed, it can be operated immediately (without having to be inaugurated)," Minister of Public Works and Public Housing Basuki Hadimuljono before the inauguration at Singosari Toll Gate, Sunday (12/5).
According to the Minister, the toll will be free of charge until this year's Eid holiday ends. "The public has anticipated the toll road, therefore we accelerate its operation to smoothen this year mudik (annual exodus before Eid)," he added.
In the meantime, the Ministry's Director General of Highways Sugiyartanto stated that the Pandaan-Malang Toll section 4 toward Malang City could be operated during this year's mudik season.
"However, since the Pakis exit gate is not wide enough, some of the vehicles will be directed to Singosari exit gate," Sugiyartanto said.
Furthermore, the Karanglo Underpass is also constructed near Singosari exit gate which aims to disperse the buildup of vehicles from Malang to Surabaya or vice versa with vehicles coming from Singosari to Batu to prevent congestion. The construction of the underpass is part of the section 3 of Pandaan-Malang toll road .
For the record, the Pandaan-Malang toll road spans along 38,488 km and the progress construction of 4.8 km of section 4 has currently reached 87 percent, while the construction of the 3.1 km of section 5 has been delayed due to the discovery of a cultural site.
The toll's construction is carried out by PT Jasamarga Pandaan Malang Toll Road Business Agency (BUJT), whose 60 percent of its shares are owned by the state-owned enterprise Jasa Marga, 35 percent by state-owned enterprise PT Pembangunan Perumahan and 5 percent by state-owned enterprise PT Sarana Multi Infrastruktur with an investment cost of Rp5.9 trillion.
The operation of the Pandaan-Malang toll road is expected to reduce Surabaya-Malang travel time as well as costs of transporting people and goods. The toll road is also expected to boost tourism in the areas tand improve access for the Singosari Special Economic Zone and Sultan Abdul Rachman Saleh Airport. (BKP Kementerian PUPR/ES)
Translated by: Galuh Wicaksono
Edited by: Muhammad Ersan Pamungkas