Pasuruan–Probolionggo Toll Road Ready for Operation
By
Office of Assistant to Deputy Cabinet Secretary for State Documents & Translation &nbsp &nbsp
Date
11 Februari 2019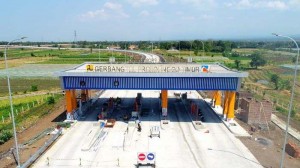 Pasuruan-Probolinggo (Paspro) Toll Road spanning 31.3 km is ready to operate, according to Minister of Public Works and Public Housing Basuki Hadimuljono.
"Pasuruan–Probolinggo toll road can be operated before its official inauguration," Basuki said in Surabaya, Friday (8/2), adding that the toll road will significantly reduce travel time from Pasuruan to Probolinggo from 2.5 hours to 30 minutes and will boost local economic growth.

Basuki went on to say that after the operation of Paspro toll road, the Government would finish the construction of Probolinggo- Banyuwangi toll road. "After land acquisition is completed, hopefully Banyuwangi toll road can be ready at the end of 2020," Basuki said.
In the meantime, President Director of PT Trans Jawa Paspro Toll Road Dwi Pratikno said that Paspro toll road starts from section I Grati Pasuruan-Tongas, Section II Tongas-West Probolinggo and Section III West Probolinggo-East Probolinggo, with total investment of Rp4.6 trillion and 50 years of concession rights.
He added that the toll road has four rest areas, each of which is built on a four-hectare land with 7.5-kilometer distance between rest areas.
For the record, the Government in the last four years has built 782-kilometer toll road, including Trans Java network which connects Merak to Grati, Pasuruan while this year, it aims to complete 895-kilometer toll roads, including several sections in Trans Sumatra. (BKP Kementerian PUPR/ES)
Translated by: Ridwan Ibadurrohman
Edited by: Ersan Pamungkas